BY TTT NEWS NETWORK
KOLKATA, 15 MARCH 2023:
The first A-320 flight of Air Arabia, connecting the UAE's capital city of Abu Dhabi with the City of Joy has been received with water salute at Netaji Subhas Chandra Bose International Airport  after its arrival here today.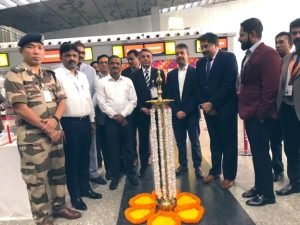 Mr. C.Pattabhi, Director of Netaji Subhas Chandra Bose International Airport, Mr. Mobin Rashid, General Manager of Air Arabia, Mr. Anil Punjabi, Chairman ( East) of Travel Agents Federation of India (TAFI), Mr. Manav Soni, Chairman ( East) of Travel Agents Association of India (TAAI), Mr. Amin Asgar, President of Sakal International Kolkata etc  were also present at the airport on the occasssion.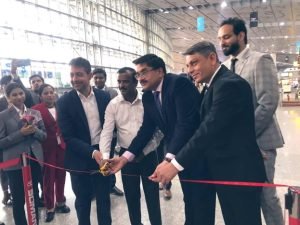 The 174 seater flight was full today and it will take four hours to reach Abu Dhabi from Kolkata.
At present the Air Arabia flight will operate thrice a week on Monday, Wednesday and Saturday.
Mr. Adel Abdullah Ali, Group Chief Executive Officer, Air
Arabia, said: "We are delighted to launch this new route, offering our customers an even wider choice of destinations in India. Kolkata is a vibrant city, and this new service will enable us to provide our customers base with more convenient and affordable opportunities for business, leisure, and cultural exchange between the two countries. Air Arabia Abu Dhabi remains committed to provide customers a unique travel experience and value driven products. We look forward to welcoming our passengers on board our flights".
Talking to The Travel and Tourism Times, Mr. Anil Punjabi said that TAFI is welcoming the new international  flight to Kolkata and the beginning is great today.
" From now onwards the competion level will be more healthier  and it will benefit the passengers. This new international flight launch today proves that the world is totally back to the pre pandemic level,"said Mr. Anil Punjabi.
Mr. Manav Soni, Chairman of TAAI said that a new international direct flight from the UAE capital to Kolkata proves the real potential of the city now and in the days to come more such international direct flights are expected.
" It will help us to showcase the airport and promote more international flights to the city which is also the wish of the state government and the tourism department,"added Mr. Manav Soni.
Mr. Ashgar Amin, the new President of Skal International Kolkata also welcomed the UAE based low cost carrier to Kolkata.
Kolkata becomes the 7 th destination of Air Arabia in India from todayafter Cochin, Calicut, Trivandrum, Chennai, Mumbai, and Ahmedabad.