BY TTT NEWS SERVICE
KOLKATA, 13 AUGUST 2022
The UPSC topper  of 2010 and also the first ever UPSC topper from Kashmir, Shah Faesal has been appointed as the deputy secretary of union tourism ministry.
Thirty nine year old IAS officer, Shah Faesal floated his political party, Jammu and Kashmir Peoples Movement (JKPM) party  in 2019 after resigning from his service. However, this year he has urged the union government to rejoin the service a few months back stating that joining politics was his wrong decision.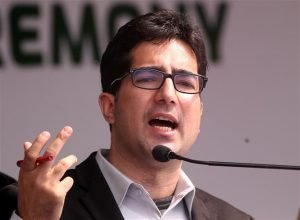 The department of personnel and training has posted the former Jammu and Kashmir cadre IAS officer in the tourism ministry as deputy secretary. He has served in various positions in Kashmir.
Earlier this year, IRS officer  Rupinder Brar was  transferred to her parent cadre from the post of Additional Director General (ADG) of the Ministry of Tourism.
She has played a key role in the Dekho Apna Desh, a tourism  webinar series on Incredible India during the pandemic period.
Tourism has been a key sector of the Narendra Modi led union government. The government has been promoting new sectors, religious tourism, creating new infrastructure to further boost tourism in the country.
In 2019, the contribution of travel and tourism was 6.8 percent of the total GDP of the country.