BY DEBAJYOTI CHAKRABORTY
KOLKATA, 12 AUGUST 2022
"On #WorldElephantDay, reiterating our commitment to protect the elephant. You would be happy to know that India houses about 60% of all Asian elephants. The number of elephant reserves has risen in the last 8 years. I also laud all those involved in protecting elephants.
The successes in elephant conservation must be viewed in context of the larger efforts underway in India to minimise human-animal conflict, and integrating local communities and their traditional wisdom in furthering environmental consciousness, Tweets PM of India , Narendra Modi today.
His cabinet colleague, union minister of environments, forests and climate control, Bhupendar Yadav tweets, 'Until one has loved an animal, a part of one's soul remains unawakened.' A day to rekindle our love for our jumbos and renew our pledge to protect them and their habitat."
The 'Project Elephant" Division of MoEFCC will present the Gaj Gaurav Awards to the Mahouts and assistant mahouts belonged to the Malasar Tribal community working in  different Elephant Camps at Tamil Nadu's Anamalai Tiger Reserve at a function in Periyar Tiger Reserve of Kerala today for their significant contribution in protecting the Earth's largest land animal.
"Protecting elephants is an important part of fighting climate change. Why? Because every day across Africa and Asia, elephants disperse billions of seeds, some of which will grow into the forests of tomorrow, sequestering and storing carbon, generating rainfall and stabilizing our climate. Save the elephants to save the forests to save the world!", says  Ian Redmond OBE, Wildlife biologist and Ambassador for the United Nations Environment Project (UNEP) Convention on Migratory Species.
The majestic African elephants face threat due to  massive poaching over the years after  escalation of  the illegal ivory trade while the Asian elephants face trouble due to shrinking habitat which leads to regular  regular man – pachyderm conflict.
Working towards better protection for wild elephants, improving enforcement policies to prevent the illegal poaching and trade of ivory, conserving elephant habitats, better treatment for captive elephants and, when appropriate, reintroducing captive elephants into natural, protected sanctuaries are the goals that numerous elephant conservation organizations are focusing on around the world.
Thailand took the initiative of celebrating World Elephant day on 12 August every year.  Incidentally, the elephant is the national animal of Thailand. The first World Elephant day was observed on 12 August 2012 with the goal to create an awareness of the urgent plight of Asian and African elephants, and to share knowledge and positive solutions for the better care and management of  captive and wild pachyderms.
" An elephant never forgets.  Some of the famous fictional jumbo characters of our childhood, Jean de  Brunhoff's Babar, Walt Disney's Dumbo, Seuss's Horton  taught us about wisdom, individuality and courage  through their reactions and choices,' writes National Geographic.
From about 300 different species today only two species exist – Africa and Asia. The International Union for Conservation of Nature and Natural Resources (IUCN) lists the African elephant as threatened and the Asian elephant as endangered species.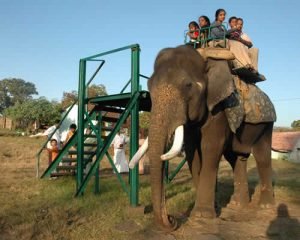 Wild elephants are truly ecosystem engineers and play a vital role in their native habitats, helping maintain the rich biodiversity of the spaces they share with other wildlife. They make pathways in dense forested habitat that allow passage for other species. Many tree species in central African and Asian forests rely on seeds passing through an elephant's digestive tract before they can germinate. An elephant footprint can also enable a micro-ecosystem that, when filled with water, can provide a home for tadpoles and other organisms.
Though elephants are native to only Africa and Asia, they hold significant cultural and symbolic meaning around the world.
WWF WORK FOR PEACEFUL COEXISTENCE :
As green forest spaces shrink, elephants and humans are forced into contact, and such instances of human-wildlife conflict often result in crop and property loss for people, and the injury or death of both people and elephants. WWF along with governments, forest departments, and communities work together to  manage human-elephant conflict through various methods, including using deterrents to keep elephants out of agricultural fields, adapting farming practices, and creating wildlife corridors to facilitate the movement of elephants away from spaces occupied by humans.
Today, the greatest threat to African elephants is wildlife crime, primarily poaching for the illegal ivory trade, while the greatest threat to Asian elephants is habitat loss and resulting human-elephant conflict. The World Wildlife Fund for Nature  uses its  expertise in policy, wildlife trade, advocacy, and communications, and engages with communities and other stakeholders in an effort to protect elephants and their habitats.
WWF also supports local people to live alongside elephants by protecting their fields from crop-raiding animals using solar powered electric fences and by installing beehives (elephants hate bees).
PROJECT ELEPHANT ( INDIA)
Project Elephant was launched in 1992 by the Government of India Ministry of Environment and Forests to provide financial and technical support to wildlife management efforts by states for their free-ranging populations of wild Asian Elephants. The project aims to ensure the long-term survival of the population of elephants in their natural habitats by protecting them, their habitats and migration corridors. Other goals of Project Elephant are supporting the research of the ecology and management of elephants, creating awareness of conservation among local people, and providing improved veterinary care for captive elephants.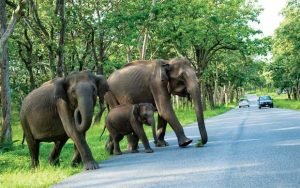 Project Elephant (PE) was launched by the Government of India in the year 1992 as a Centrally Sponsored Scheme with following objectives:
·        To protect elephants, their habitat and corridors.
·        To address issues of man-animal conflict.
·        Welfare of captive elephants
·        to promote not to harm elephants for their tusks.
The Project is being mainly implemented in 16 States / UTs, viz. Andhra Pradesh, Arunachal Pradesh, Assam, Chhattisgarh, Jharkhand, Karnataka, Kerala, Maharashtra, Meghalaya, Nagaland, Orissa, Tamil Nadu, Tripura, Uttarakhand, Uttar Pradesh, West Bengal.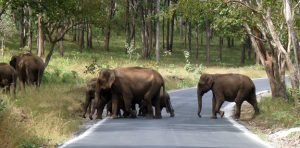 ELEPHANT FACTS:
The elephant is the only mammal that can't jump.
The elephant's gestation period is 22 months.
An elephant in the wild can eat anywhere from 100 – 1000 pounds of vegetation in a 16 hour period.
The intestines of an elephant may be 19 meters in length, or more than 60 feet long.
Elephants purr like cats do, as a means of communication.
In a day, an elephant can drink 50 gallons (200 liters) of water.
An elephant's trunk can hold 2.5 gallons of water
Elephants have been known to learn more than 60 commands.
The African elephant is the largest living land mammal.
Elephants can swim – they use their trunk to breathe like a snorkel in deep water.
Elephants are extremely intelligent and have incredible memories.
About 90 % African Elephants have been wiped out in the past 100 years
Elephants consume grasses, small plants, bushes, fruit, twigs, tree bark, and roots. Tree bark is a favorite food source for elephants.
The successes in elephant conservation must be viewed in context of the larger efforts underway in India to minimise human-animal conflict, and integrating local communities and their traditional wisdom in furthering environmental consciousness.

— Narendra Modi (@narendramodi) August 12, 2022
The successes in elephant conservation must be viewed in context of the larger efforts underway in India to minimise human-animal conflict, and integrating local communities and their traditional wisdom in furthering environmental consciousness.

— Narendra Modi (@narendramodi) August 12, 2022
'Until one has loved an animal, a part of one's soul remains unawakened.'

A day to rekindle our love for our jumbos and renew our pledge to protect them and their habitat.

Greetings on #WorldElephantDay🐘 pic.twitter.com/4g1U7ee0lN

— Bhupender Yadav (@byadavbjp) August 12, 2022