DEBAJYOTI CHAKRABORTY
KOLKATA, 1 JULY 2022
There are over one lakh sweet shops ( mistir dokan)spread all over  in West Bengal and the present misti market in Bengal is about Rs.20,000 crores. Though the name misti and bengali are synonymous , in recent decades due to  gradual decrease of karigars (craftsmen) and absence of usage of modern day technologies , the industry has been facing an uphill task.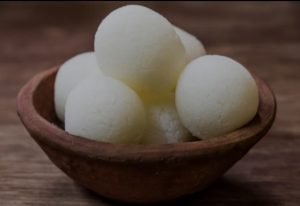 Shantiniketan Society for Youth Empowerment  has set up the state's first  Bangla Misti Academy to protect the art of Bengali Sweet and Deserts in October last year.
The objective of the Bangla Misti Academy is to protect and preserve the rich heritage of Bengali sweets and deserts, to make available to the industry trained and skilled craftsman,to make aware the
stakeholders regarding hygienic norms and processes, to sensitize entrepreneurs and skill workers regarding scientific process of misti making and deserts, knowledge about latest food and machineries,
quality control technologies and process, knowledge about modern packaging , modern management tools, techniques and management system, food laws and to provide full range of consultancy services.
Bangla Misti Academy conducts short term and hands- on- programme to young men and women to prepare them for the industry and for self employment.
It also aims to upgrade skills of existing craftsmen regarding usage of raw materials, technology and equipment for innovation. It aims to motivate youth to set up misti shops and production centres.
The training programme covers short term Certificate Programmes as also Diploma in Misti making.
Shantiniketan Society for Youth Empowerment, an NGO has involved a team of experts from various streams like management, technical professionals, cultural personalities and academicians.
The team is led by Robin Ghosh, economist, management and communication consultant with an experience of over 25 years in management and providing leadership to NGO.
Robin Ghosh was a post graduate student of economics  of Nobel Laureate Amartya Sen at Delhi School of Economics.
Speaking to The Travel and Tourism Times, Robin Ghosh, President of Shantiniketan Society for Youth Empowerment has said that it is the dream to transform the traditional business into a modern business
with the adoption of food machinery and making hygienic food.
" There are about 100 popular sweets and deserts of Bengal which can be packaged. With the adoption of  modern packaging technology  the shell life of sweets  can increase  between three to six months. Presently only the GI tagged rosogolla is the best seller in the vacuum packed box (tin)  misti category, followed by pantua,"says Robin Ghosh.
From online sales, supermarkets to airports the sales of packed rasgulla or rosogolla is very high.
He said that the moiras (craftsmen) earlier used to charge between Rs.150 to Rs.200 per day but these days they charge between Rs.800 toRs.900. Small sweet shops find it difficult to sustain because of these huge price escalations.
Today's  youth also want hygienic food with attractive packaging. Through highly productive food machinery, about 2000 rosogollas, pantua, ladykeni, chomchom etc can be prepared in only one hour.
These automatic machines can also produce mishti doi and rabris. " Like all other present day industry the Bangla misti industry is also technology driven and the manufacturers must  accept this change in
order to sustain in the market," Robin Ghosh added.
As part of its women empowerment programme, the Shantiniketan Society For Youth Empowerment has also trained santhal girls from Shantiniketan the art of misti making.
" These young tribal girls are our success stories and have already started making sweets and selling in fairs, catering events, festivals etc and have started becoming  self-reliant," concludes Robin Ghosh.
Misti has been the brand ambassador of Bengal globally, foreigners, NRIs all are fond of Bengal sweets.
Infact whenever Little Master Sunil Gavaskar used to come to Kolkata he used to take back with him the mishti doi and Shree Ramkrishna Paramhansha was fond of sandesh. His favourite disciple Swami
Vivekananda was fond of rosogollas.  Iswar Chandra Vidyasagar loved Monohara and singers Kishore Kumar and Manna Dey loved Lalmohan, a famous sweet from North Bengal.