BY TTT NEWS NETWORK
KOLKATA, 25 FEBRUARY 2023:
Arunachalis – Living with Nature, which has documented the rich cultural heritage of 17 indigenous communities of the North Eastern state of Arunachal Pradesh has been jointly released by Ms. Melinda Pavek, consul general of United States in Kolkata and MLA, Laisam Simai, who is also the advisor of the tourism department.
The tourism department of Arunachal Pradesh  in association with non profit contact base has published this book and the project is supported by the US Ambassadors fund for Cultural Preservation.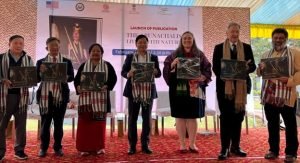 Commenting on the occasion, Ms. Melinda Pavek said, " As a part of the United States and India's comprehensive global strategic partnership, its important also to highlight the  wealth of stories and experiences that come together to make our societies what they are today."
" The United States is proud to support Arunachal Pradesh 's indigenous cultures, ensuring preservation of its heritage through our US ambassadors' fund for cultural preservations," she concluded.
The officials of the tourism department has conducted the field research works, inputs,  collected photographs and other related data and information from every districts.
" Arunachal Pradesh is a world within a world. We offer everything in one package – this is the beauty of AP,"said MLA Simai.
He has also requested the US Consul General to assist in setting up a museum in memory of the fallen heroes of the Allied Forces of the World War and the Stilwel Road in Nampong and it will enrich regional cooperation.
The Historic Stilwell's Road, 1726 Km long road was constructed by the Allied Soldiers lead by America during the Second World War. Originally named the "Ledo Road", it was constructed under the direct supervision of American General Joseph Warren Stilwell, and was renamed after him in early 1945.