BY DEBAJYOTI CHAKRABORTY
KOLKATA, 18 NOVEMBER 2022
The Central government is planning to set up a National Digital Tourism Mission to promote tourism in the country, said union minister of tourism, culture and  development of north eastern region , G.Kishan Reddy.
He was present  here to attend  the three days  10 th International Tourism Mart (ITM)  in Aizawl of Mizoram.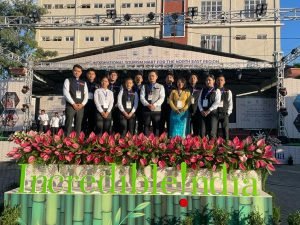 " The centre has planned to set up 100 roadside amenities including viewpoints at the North eastern States to boost tourism and already 22 view points worth Rs. 49 crores have been approved.  In Mizoram  9 such projects will be set up and  these projects  will be undertaken by National Highways and Infrastructure Development Corporation (NHIDCL). Sanctioned with 12.78 crores, these projects will be
implemented along 9 locations – Zemabawk, Tlangnuam, Phulmawi, Pangzawl, Tualthu, Thingkah, Keifang, Puilo and Neihdawn. These viewpoints shall also be equipped with public toilets, eateries. Stalls will also be installed to promote the local produce," said G. Kishan Reddy. He thanked the Mizoram  state government for the establishment of YUVA Tourism Clubs in schools and colleges.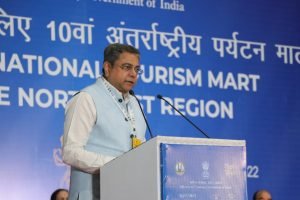 The 10th International Tourism Mart (ITM) for the northeast region also focuses on "priorities of G20 for tourism track", since India will assume the yearlong presidency of the influential group for a year from  1 December 2022  to 30 November 2023.More than 200 meetings will be held in India across 55 locations in this period, informed the union tourism minister. Some of the meetings will be held in the North Eastern region including Aizawl.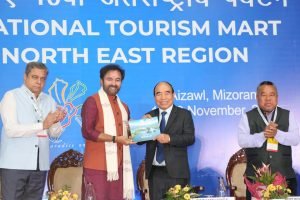 The meetings will also be held at Tier 2 and Tier 3 cities likeSiliguri, Rann of Kutch, Hampi, Khajuraho  etc.
He further stated that under Swadesh Darshan scheme centre has granted Rs.5863 crores to Mizoram for development of the southern region and setting up of an eco adventure tourism hub in Mizoram. Rs.45 crores have been allocated under the Prashad scheme. A task force will also be set up very soon for spreading tourism awareness of the north eastern region, G.Kishan Reddy said.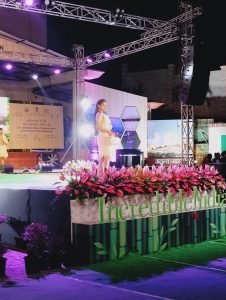 "Today as we have gathered here for the ITM, we must come together and discuss new ideas to promote the tourism sector within the Northeast region as we get ready to preside over G 20 countries also. We must work towards positioning India as one of the leaders in the tourism sector by 2047,"  G.Kishan Reddy added.
Chief minister of Mizoram, Zoramthanga, tourism minister of Mizoram, Robert Romaiya Rowte,union tourism secretary, Arvind Singh,  chief secretary of Mizoram,   Renu Sharma,  Manisha Saxena, Principal
Secretary tourism of Mizoram, Vantawl Lalengmawia, joint secretary of tourism of Mizoram were also present.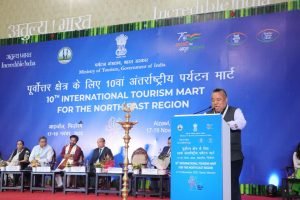 A Coffee Table Book – Mystical Mizoram was launched by the union tourism minister  during the event hosted at R. Dengthuama Indoor Stadium, Mualpui on Day 1 of International Tourism Mart 2022.
The Union tourism  minister and chief minister jointly laid the foundation stone for four projects namely Aizawl Convention Centre at Chite, PRASHAD Project, two Bamboo Link Roads under PM DevINE – Tuirial Airfield to North Chaltlang and Lengpui to Saiphal.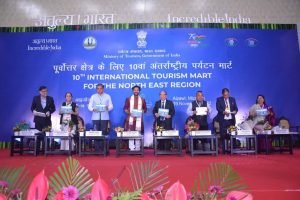 Chief Minister of Mizoram, Zoramthanga,  Union Minister for Tourism, G Kishan  Reddy and  Robert Romawia Royte,  Minister for Tourism visited State Exhibition Stalls at AR Lammual on day one after the inauguration ceremony.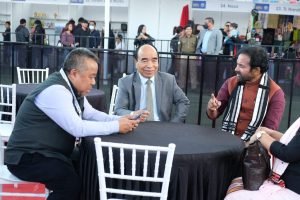 Zoramthanga, CM of Mizoram warmly welcomed the delegates and guests to the travel fest that offers an insight into the hidden gems of northeast India.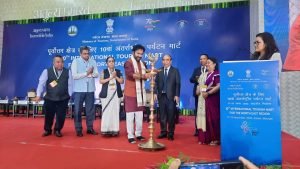 Minister of Tourism of the state of Mizoram,  Robert Romawia Royte stated that over the years the International Tourism Mart has become a strong platform for promotion of tourism through exchange of culture, business and ideas.
He further mentioned that he's optimistic that ITM 2022 will boost communication amongst the global tourism stakeholders.
Arvind Singh addressed the guests on the day 1 of the travel mart held at Aizawl in Mizoram speaking about the versatile experiences one can enjoy as they traverse these eight scenic states.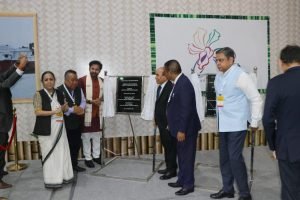 Dr. Renu Sharma, Chief Secretary of  Mizoram welcomed the delegates to the International Tourism Mart 2022 with a welcome address talking about the tourism potential and surreal beauty of the north-eastern states of India.
The delegates enjoyed the opening song by Faktu Choir, Old is Gold by Mizo Cultural Organization, a Musical Drama, Sound From The Hills, a fashion connect representing the traditional attire from the state, and a Traditional Dance Medley: Chhawkhlei Cultural Club.
This is the first time Mizoram is hosting the International Tourism Mart from 17 November to 19 November 2022.
The indoor stadium has been beautifully decorated and draped with vibrant posters promoting the eight sister states of the northeast region as veritable tourism attractions- 'Awesome Assam' to 'Land of Jewel – Manipur'  and  'Mesmerising Meghalaya' to 'Land of Dawn-lit Mountains – Arunachal Pradesh'. 'Mystical Mizoram – A Paradise for Everyone', 'Land of Festivals – Nagaland',  'Sikkim Where Nature Smiles' 'Tripura Where Culture Meets Nature' with pictures  of tourism attractions and  cultural heritage of the region.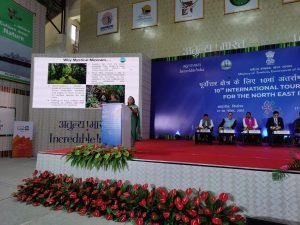 Mystical Mizoram – Storehouse of natural beauty :
Tucked away in the Northeastern part of the country  is the hilly state of Mizoram. With ample natural beauty and a deep-rooted sense of culture and tradition, Mizoram is a  Northeastern gem that has great tourism potential.
Aizawl, the capital city of Mizoram is located at about 1132 metres above the sea level and is a beautiful and bustling 112-year-old city set on ridges of steep hills. Once a remote village used as a British army fort, Aizawl has grown into a picturesque city.