(Bruno Cristol, General Manager, Crowne Plaza Changi Airport with the Skytrax's 'World's Best Airport Hotel 2023' Award in Amsterdam.)
BY TTT NEWS NETWORK
SINGAPORE, 17 MARCH 2023:
Crowne Plaza Changi Airport, part of IHG Hotels & Resorts, has once again earned top accolades at Skytrax's 2023 World Airport Awards. The hotel clinched both "World's Best Airport Hotel" and "Best Airport Hotel in Asia" for a remarkable eighth consecutive year at the annual awards list, which represents the benchmark of excellence in the world airport industry.
"We are truly honoured to receive these prestigious recognitions for the eighth year running! This is a significant milestone and a testament to our service excellence and immense dedication of our passionate colleagues, who strive to deliver exceptional experiences to our guests, every day," said Bruno Cristol, General Manager, Crowne Plaza Changi Airport and Area General Manager, IHG Singapore.
"We thank our guests sincerely for their continued support and trust. Their vote of confidence motivates us to continue delivering True Hospitality to all who walk through our doors," he added.
Mr Edward Plaisted, CEO of Skytrax said: "We congratulate Crowne Plaza Changi Airport for their fabulous success in winning this important guest satisfaction award for 2023, this being the eighth consecutive year they have scooped this award. The airport hotel market has become increasingly competitive in recent years, and for the Crowne Plaza Changi Airport to maintain their leadership is a wonderful acknowledgement of the high standards they provide to their guests."
Skytrax's global survey was conducted from August 2022 to February 2023 with participation from over 100 customer nationalities. Based on the results, winners were announced on 15 March 2023 at the World Airport Awards held at Passenger Terminal EXPO in Amsterdam. The World Airport Awards are the most prestigious accolades for the airport industry, voted by customers in the largest, annual global airport customer satisfaction survey. Operating since 1999, the World Airport Awards are independent and impartial, and were introduced to provide a customer satisfaction study that is truly global in scope and coverage. They are regarded as the quality benchmark for the world airport industry, assessing customer service and facilities across over 550 airports.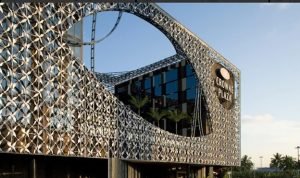 Located at Singapore Changi Airport with direct access to all airport terminals and Jewel – a tropical wonderland where nature meets retail, Crowne Plaza Changi Airport caters to modern travellers on business, transit or leisure. The hotel features 563 thoughtfully-appointed guestrooms, including premier rooms with runway views and selected rooms with stunning vistas of Jewel. From extended stays to brief layovers or relaxing staycations, guests are kept productive, connected and restored.
As part of IHG Hotels & Resorts' premium brand collection, Crowne Plaza is one of world's largest premium hotel brands – with more than 400 locations globally. The brand continues to expand rapidly across Asia Pacific, where it has quickly become the ideal choice of the modern business traveller, and also established itself as a go-to getaway for island escapes in Micronesia with the debut of Crowne Plaza Resort Saipan and Crowne Plaza Resort Guam in 2022. Crowne Plaza Resort Saipan boasts access to some of the area's most coveted attractions, including the famous white-sand Micro Beach on the resort's doorstep, while the resort itself features 422 design-led guestrooms, three swimming pools, tennis courts and more. Crowne Plaza Resort Guam is situated on the white sandy beaches of Tumon Bay and has been completely restored to unveil the brand's modern design with all-new guestrooms, family-friendly suites, pools and restaurants.
In Vietnam, the launch of the Crowne Plaza Phu Quoc Starbay in October 2021 and Crowne Plaza Vinh Yen City Centre in November 2022 introduced the new era of intuitive accommodation and amenities that are tailored to the blended travel generation. Openings are slated in South East Asia in the next two years include Crowne Plaza Penang Butterworth Straits City, Crowne Plaza Kuala Lumpur City Centre and Crowne Plaza Kota Kinabalu in Malaysia, and Crowne Plaza Bangkok Grand Sukhumvit in Thailand.