BY TTT NEWS SERVICE
KOLKATA, 27 AUGUST 2022
On the occasion, to celebrate this spirit of Durga puja, a mesmerizing dance ballet- Devi Rising was presented by the renowned Odissi dancer and Sangeet Natak Akademi awardee  Sharmila Biswas and her troupe from Kolkata.
It  has enthralled the audience and the guests with the depiction of Devi Durga or the feminine shakti through aesthetically conceptualized choreography, music, costumes, and theme.
Celebrating the inscription of 'Durga Puja in Kolkata' on the representative list of UNESCO's Intangible Cultural Heritage of Humanity cum Inauguration of 'Capacity Building Workshop' of ministry of  Culture, on Intangible Cultural Heritage (ICH) at National Museum in New Delhi today.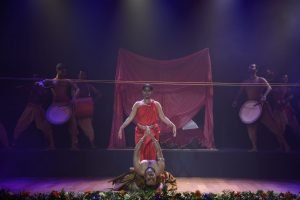 Tim Curtis, Secretary, Convention for Safeguarding the Intangible Culture Heritage, UNESCO and  Eric Falt, Director, UNESCO, New Delhi Cluster graced the occasion as chief guest.
Chief Minister Mamata Banerjee has already announced to hold a mega rally from Jorasanko to Red Road in Kolkata on 1 September to celebrate the UNESCO recognition of Durga Puja as a World Heritage Festival  after which the UNESCO representatives will be felicitated.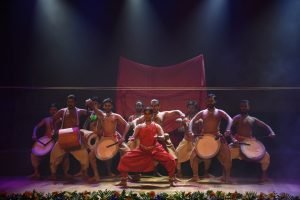 The information and cultural affairs department of West Bengal has been entrusted to make this rally a grand success and has already issued guidelines for the rally and the rich cultural heritage of Bengal will be showcased.
School Children will also participate in the colourful rally . A Special theme song has been prepared for the rally and high officials of various foreign consulates in Kolkata have also been invited.
There will be a special focus this year to attract the domestic and international tourists to West Bengal during the Durga Puja carnival this year and special packages and infrastructural upgrades have been taking place.
The Travel Agents Association of India (TAFI) and the Travel Agents Association of India (TA)), Eastern Region have offered all their support to the state government to  promote and boost the Durga Puja carnival tourism in the state this year.
After the muted celebrations of the Durga Puja due to the outbreak of the covid -19 pandemic in the last two years, this will be first fully 'open' Durga Puja in the state since 2019 and several thousands of people are expected to visit Bengal during the puja holidays as the celebrations are expected to be  be more  louder and grandeur after bagging the Unesco cultural heritage tag last year.
"While Durga Puja is one of the most important festivals of West Bengal, India, it is widely observed across the country and in major cities of the world by the Bengali diaspora. Over the years, the Indian city of Kolkata has emerged as the geographical and cultural heart of the national and global celebrations of the festival, " according to Unesco.
Durga Puja has joined the elite league of Intangible Cultural Heritage (ICH) of India like the  Kumbh Mela, Kutiyattam, Ramlila, Ramman, Chhau dance, Buddhist Chanting etc.