BY TTT NEWS NETWORK
KOLKATA, 10 MARCH 2023:
Aizawl is set  to become the fourth state capital in North East to have rail link as the Northeast Frontier Railway (NFR) is laying the new Broad Gauge (BG) track up to Sairang, about 20 km from the capital city Aizawl.
Works on the project commenced in 2015 and the revised timeline for its completion is November 2023.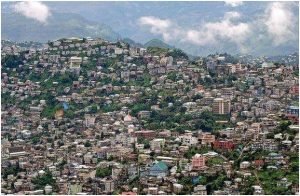 About 70 per cent work of the project has been completed so far. With 55 major bridges, 87 small bridges and 32 tunnels (total length of the tunnels is about 12.63 km) with the longest tunnel about 1.88 km in length, Bairabi-Sairang railway line would have four stations — Hortoki, Kawnpui, Mualkang and the terminal station at Sairang with estimated Rs 6,547 crore of project cost.
Despite the unfavourable topography and the almost 6 to 7 months long monsoon season and adverse climate besides various other challenges, good progress has been made so far on the 52 km railway project.
Aizawl is the largest city in the state of Mizoram and once this railway link becomes  operational  then it will give a big boost to the trade and tourism in the state.