(Overlooking the Arabian Gulf, the urban escape is anticipated to feature the brand's detail-driven design and innovative programming)
TTT NEWS NETWORK
KOLKATA, 31 AUGUST 2023:
Marriott International, Inc., today announced it has signed an agreement with Dalands Holding in collaboration with Marjan, the master-developer of freehold properties in Ras Al Khaimah, to bring W Hotels to Al Marjan Island. Slated to open in Q1 2027, W Al Marjan Island is anticipated to mark W Hotels first property in the emirate of Ras Al Khaimah bringing bold design, outstanding service and always-on programming.
Al Marjan Island is Marjan's flagship archipelago island off the coast of the city set against the picturesque backdrop of the Arabian Peninsula and enclosed by the Yanas and Jais Mountains. A thriving leisure destination, the island attracts global travellers to its luxurious waterfront living and white sandy beaches and offers an array of activities and water sports. The island is also in close proximity to Ras Al Khaimah's cultural, heritage and adventure attractions.
"We are excited to work with Dalands Holding to bring W's invigorating energy and dynamic design to Al Marjan Island," said Saahil Lalit, Vice President – Development, Middle East, Marriott International. "Ras Al Khaimah continues to be a sought-after leisure destination attracting global travellers to its idyllic beaches and attractions. We look forward to continuing to support the growth of the tourism sector in the Emirate."
Situated on prime beachfront overlooking the Arabian Gulf, the hotel is anticipated to feature 300 rooms and suites with uninterrupted sea views. Design plans for the property include signature spaces such as the Living Room, WET deck, W Lounge, AWAY Spa and FIT fitness centre. The property is also expected to offer three restaurants and retail space.
Mr. Saurabh Gupta, Chief Executive Officer, Dalands Holding said, "We believe this one-of-a-kind development will be immensely popular for its iconic design, luxurious accommodation and trendy culinary options. Like the other luxury hotels in our portfolio, we are developing W Al Marjan Island around the perceived needs of our future guests by curating exceptional offerings and unforgettable experiences. Through this project, we hope to further enhance the attractiveness of Al Marjan Island."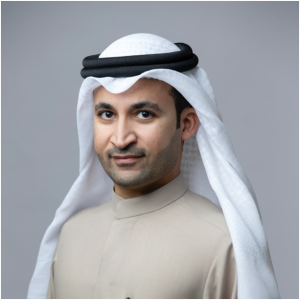 Mr. Abdulla Al Abdouli, Chief Executive Officer, Marjan, said: "As Ras Al Khaimah rightfully solidifies its position on the global tourism landscape, we take pride in our significant contribution to enhancing its credibility and attractiveness among international investors. This commitment has led to a myriad of prestigious projects, as exemplified by the launch of W Al Marjan Island. We are confident that this addition to our portfolio will not only raise the bar on regional hospitality but also set a new global benchmark, further reinforcing the northern emirate's destination appeal."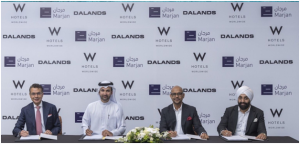 The announcement of W Al Marjan Island reaffirms the growth of W Hotels in Europe, the Middle East and Africa, with new openings planned across the region in exciting destinations. W Al Marjan Island will mark the brand's fourth property in the UAE, following W Dubai The Palm, W Dubai – Mina Seyahi and W Abu Dhabi – Yas Island.
About W Hotels:
Born from the bold, 24/7 culture of New York City, W Hotels has redefined hospitality for over two decades, breaking the norms of traditional luxury wherever the iconic W sign lands. With more than 60 hotels around the globe, the detail-driven design, iconic Whatever/Whenever service and buzzing, signature Living Rooms create an experience that is often imitated but never matched. Dynamic and invigorating, the brand celebrates each travelers' desire to uncover the destination through a lens that is distinctly W. W Hotels is proud to participate in Marriott Bonvoy®, the global travel program from Marriott International. The program offers members an extraordinary portfolio of global brands, exclusive experiences on Marriott Bonvoy Moments and unparalleled benefits including complimentary nights and Elite status recognition.
About Marriott International:
Marriott International, Inc. (NASDAQ: MAR) is based in Bethesda, Maryland, USA, and encompasses a portfolio of nearly 8,600 properties under 31 leading brands spanning 139 countries and territories. Marriott operates and franchises hotels and licenses vacation ownership resorts all around the world. The company offers Marriott Bonvoy®, its highly awarded travel program.
About Dalands Holding:
Dalands Holdings is a privately held investment company with interests in hospitality assets and luxury real estate projects. The company aims to own and develop unique resorts, hotels and branded residences in Ras Al Khaimah, Dubai and India.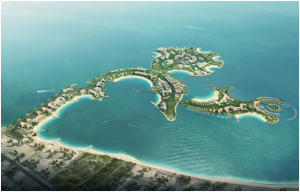 About Marjan :
Marjan is the master-developer of freehold property in Ras Al Khaimah (the GCC Tourism Capital), responsible for path-breaking developments such as Al Marjan Island aimed at positioning Ras Al Khaimah as one of the region's leading tourism and investment destinations. Mandated with developing waterfront, urban and mountain destinations that will add to the competitiveness of the emirate, Marjan's strategic master-planning approach is to leverage Ras Al Khaimah's natural assets and lay the foundations of the emirate's future expansions. Through its world-class master-planned communities in Ras Al Khaimah, Marjan attracts foreign investment as well as international visitors and positions the emirate as a strong investment and tourism hub.