Setting off for the 8 day  adventure from the SLTPB Premises
BY TTT NEWS NETWORK
KOLKATA, 26 FEBRUARY 2023:
Sri Lanka Tourism Promotion Board  recently hosted two social media influencers from Tamil Nadu, India, namely Shivaani Mathesh and Vishwa Sakthivel, who arrived at the destination with the purpose of going on an all island bike tour, covering all 9 provinces of Sri Lanka. The event was titled ''1700 km bike ride'' as they went on to cover all the major cities including Colombo, Negombo , Hikkaduwa, Galle , Mirissa ,Ella, Nuwaraeliya , Kandy , Sigiriya, Polonnaruwa, Anuradhapura, Trincomalee, and Thalaimannar, which was, as mentioned, 1700 km. They had a major purpose to do this tour as a couple of keen social media influencers, to spread the message of gender equality, including equal rights, responsibilities and opportunities for both men and women, and also to spread awareness among people that women riding motorcycles is normal and they can also travel in motorcycles too. With this message given, they were positive that the ride will motivate many young women to step out of their comfort zone and chase their dream of riding a motorcycle and travel the world.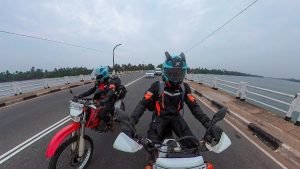 Kalutara – Kalu Ganga
The tour started off on the 20th of January 2023, which was an 8 day tour covering all 9 provinces and they kicked off their journey from the SLTPB premises given the green flag by the Managing Director, SLTPB, Ms.Padma Siriwardena,  amidst other SLTPB officials who were present at the venue.   They were also interviewed by a few local TV channels, where they expressed their purpose and mission of going in the tour. From a tourism aspect, this was an interesting occasion to promote the destination and its iconic tourist attractions, in order to encourage more tourists and enthusiastic travelers who are always ready for an adventure. Apart from that, the tour also took an interesting turn as it also addressed a major social issue which prevails at the moment, and call upon people to end social and gender discrimination across the world, using Sri Lankas iconic locations as the backdrop to convey this important message.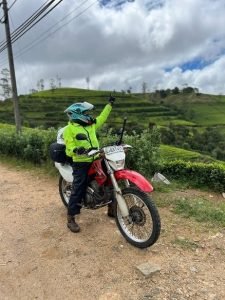 Nuwaraeliya – Tea estate
Southern coastal road
They were also able to have some memorable experiences while they were on tour, such as the power cut in Nuwaraeliya while they were on their way, and meeting the locals who were interested in knowing their purpose and where they came from.  They were much amazed to see the enthusiasm of the local people wherever they went, and the support and hospitality they received from everyone. They enjoyed the sightseeing throughout the ride, and were mesmerized by the endless greenery and mountains of Nuwaraeliya , as well as the ancient cultural ruins in Anuradhapura  which had been well  preserved for thousands of years , fascinated by the majestic splendor of the Sigiriya rock fortress, and the amazing sun kissed beaches in the down south.
Trincomalee – Thiru Konneswaram
Shivaani Mathesh and Vishwa Sakthivel are not only social media influencers, but also automobile enthusiasts, as Shivaani is also a professional moto vlogger and the 1st female moto vlogger of Tamil Nadu, whereas Vishwa Sakthivel, hailing from the same area is an automobile enthusiast and a traveler. They also hold the India book of records as the ''youngest couple to complete motorcycle expedition to all districts of Tamil Nadu ''. Moreover, they can also be followed on social media sites such as @miss_motoaddictto on Instagram, which has 168 k followers, and @ missmotoaddictto on you tube, also on @missmotoaddictto which has 239k subscribers.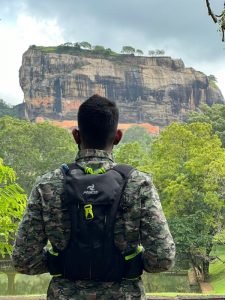 viewing the Sigiriya rock fortress
In Shivaani's own words, she mentioned, ''As I embarked on our journey through Sri Lanka on bikes, I was filled with a sense of excitement and adventure. I was eager to explore the beautiful country, meet new people, and experience the rich and flavorful local cuisine'' she went on to express the countless number of kind and hospitable individuals, eager to share their unique culture and stories with them. The 8-day adventure throughout all 9 provinces filled them with awe and wonder, enjoying the'' natural beauty of the landscape, from rolling hills to serene beaches and everything in between''. They also had unforgettable experiences such as meeting a wild elephant on the road and waiting for it to pass by, reminding them of the natural wonders that exist in Sri Lanka. Apart from that, she also spoke enthusiastically about the local cuisine, from spicy sambal to the savory dhaal and the delectable coconut roti and parotta, indulging themselves in every flavor and texture, immersing themselves in the rich and diverse culture of Sri Lanka.
This proved to be an occasion where not only Sri Lanka and its beauty was highlighted but also to take an important message to the world by using Sri Lanka's iconic locations as a beautiful backdrop.
(Photo credit- SLTPB)