BY TTT NEWS NETWORK
 KOLKATA , 12 DECEMBER 2022:
Yesterday, the Jammu and Kashmir tourism department on Sunday celebrated the international mountain day at   TRC Hall  in Srinagar, in which large number  of women mountaineers also participated. The theme of this event was "Women move mountains."
Women are integral to the sustainable development of mountain communities and to celebrate the resilience, endurance, and courage of these unsung warriors, the  J&K tourism department organised the International Mountains Day celebrations  at TRC Srinagar.
"The goal of organizing these events was to keep Kashmir Valley alive during the winter."  In the next few  days,  the tourism department have planned to organise several otrher events in the Kashmir Valley to boost the tourism sector.
Few days ago , the tourism department organized a houseboat festival.
Women move mountains. "It showcased the initiatives taken by the government to highlight our mountain systems and their communities, and the responsibility of each stakeholder in preserving the fragile ecosystems that are under tremendous stress from environmental hazards and pressures."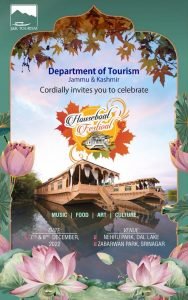 There was a facilitation ceremony to honor the adventure tourism fraternity, our trekkers, and environmentalists, particularly the women who are at the forefront of such endeavours.
 Both the Secretary of Department of Tourism of Jammu and Kashmir ,  K. Sarmad Hafeez, and the Director of Tourism, Fazlul Haseeb, addressed  the gathering, stressed the  need to preserve and promote green tourism and has urged  the youth to take an active and responsible role in making the  mountains safe and protected by being the harbingers of positive change.
"Apart from destinations like Gulmarg, Pahalgam and Sonamarg, the department is also planning to keep other locations like Doodhpathri, Tosmaidan, Yusmarg and others open this winter so that tourists have more choices," added K.Sarmad Hafeez.
Representatives of Travel  and Toursim Associations, representatives of mountain biking association, school children and  adventurist tourism / sports lovers  were present on the occasion.
The tourism department, in collaboration with the Wildlife Department in Kashmir, is set to organize a bird-watching event in the valley, in which bird lovers will have the chance to watch the feathered  guests that comes  from different parts of the world.
 The tourism department has also oragnised on 7 to 8 December music, food, waterscreen laser, culture, art and photo exibition at Nehru Park in Dal Lake in Sri Nagar. The House Boat festival was also organised along with this event  at Nehru Park, Dal Lake, Zabarwan Park, Sri Nagar.
Women move mountains
The theme of this year's International Mountain Day (IMD) on 11 December is Women move mountains.
Women play a key role in mountains' environmental protection and social and economic development. They are often the primary managers of mountain resources, guardians of biodiversity, keepers of traditional knowledge, custodians of local culture, and experts in traditional medicine.
Increasing climate variability, coupled with a lack of investment in mountain agriculture and rural development, has often pushed men to migrate elsewhere in search of alternative livelihoods. Women have therefore taken on many tasks formerly done by men, yet mountain women are often invisible due to a lack of decision-making power and unequal access to resources.
As farmers, market sellers, businesswomen, artisans, entrepreneurs, and community leaders, mountain women and girls, in particular in rural areas, have the potential to be major agents of change. When rural women have access to resources, services, and opportunities, they become a driving force against hunger, malnutrition, and rural poverty and are active in the development of mountain economies.
International Mountain Day 2022 is an opportunity to promote gender equality and therefore contribute to improving social justice, livelihoods and resilience.
Natural jewels we should treasure
Mountains are home to 15% of the world´s population and host about half of the world's biodiversity hotspots. They provide freshwater for everyday life to half of humanity. Their conservation is a key factor for sustainable development and is part of Goal 15 of the SDGs.
Unfortunately, mountains are under threat from climate change and overexploitation. As the global climate continues to warm, mountain people — some of the world's poorest — face even greater struggles to survive. The rising temperatures also mean that mountain glaciers are melting at unprecedented rates, affecting freshwater supplies downstream for millions of people.
This problem affects us all. We must reduce our carbon footprint and take care of these natural treasures.
The increasing attention to the importance of mountains led the UN to declare to 2002 the UN International Year of Mountains. The first international day was celebrated for the first time the following year, 2003.
Its roots date back to 1992, when the document "Managing Fragile Ecosystems: Sustainable Mountain Development" (called Chapter 13), was adopted as part of the action plan Agenda 21 of the Conference on Environment and Development.
Most recently, the UN proclaimed 2022 the International Year of Sustainable Mountain Development.