BY TTT NEWS NETWORK
KOLKATA , 4 FEBRUARY 2023:
 Kolkata to Cooch Behar daily flight services will start from 15 February by Ahmedabad based scheduled airlines, IndiaOne Air under the Ude Desh Ki Aam Nagarik Scheme (UDAN) .
Thus, Cooch Behar Airport, which has been lying idle since 2016, will become the second commercially operated airport in North Bengal after Bagdogra Airport and the fourth operational airport in the state along with Netaji Subhas Chandra Bose International Airport (NSCBIA) in Kolkata and Kazi Nazrul Islam Airport in Andal.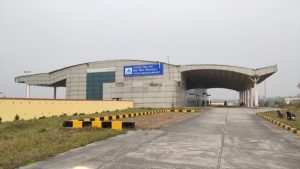 IndiaOne Air will initially operate a nine seat daily flight from Kolkata to Cooch Behar.
" It is a very good news that Cooch Behar Airport flight operations are going to start again and it will definitely boost the air connectivity in the state which will further benefit the tourism sector of West Bengal,'said Mr. Anil Punjabi, Chairman ( East) of Travel Agents Federation of India (TAFI).
Cooch Behar Airport (COH) is located at Cooch Behar, West Bengal, India and serves the greater Assam-Bengal border area. The airport is located on  an area of 173 acres. The airport has only one runway. It can handle 1,10,000 air passengers per anum.
 The aircraft will reach Cooch Brehar at 12.15 PM and leave at 12.30 PM daily. Mr. Arun Kumar Singh, CEO has informed that the initial cost will be Rs.999 per passenger and it will take one hour and forty five minutes to reach the destination.
The daily flight will connect Cooch Behar with Bhuvaneswar via Kolkata and Jamshedpur.
 ABOUT COOCH BEHAR-
Once a princely state , Cooch Behar is known for its fine climate, natural freshness and beauty. During the 11 th and 12 th century AD, the Pala – Senas ruled Cooch Behar.The sculptures and the coins of the Sultanate and the Mughal Periods, and the temples and mosques of the medieval and late medieval periods reveal that the ancient kingdom of Kamrup played a role in the development of present Cooch Behar.
The main attraction of Cooch Behar is the is the palace of Koch King Maharaja Nripendra Narayan. Designed to represent the classic European syle of Italian Renaissance, this magnificent palace was built by the Maharaja in 1887.
It is a land of temples and the most famous is the Madan Mohan Temple, at the heart of the Cooch Behar town built during 1885 to 1889.
The Raas Jatra Festival and the Rass Mela of Coochbehar is the biggest festival of North Bengal. It also has large water bodies and is a host of migratory birds and attracts nature overs. Among them the Rasik Bill is the most famous.