BY TTT NEWS NETWORK
KOLKATA, 13 FEBRUARY 2022:
Several  award winning veteran Indian actor Ashish Vidyarthi, famously known for his roles as a villain and many other character  roles in Bollywood , Tamil, Malayalam, Telugu, Kannada, Bengali, has visited  Sri Lanka recently  on a special mission to support Sri Lanka Tourism Industry by creating positive impacts  within international tourists including fellow Indians.
He was invited by the Sri Lanka Tourism Promotion Bureau to Promote the Tourism Industry in Sri Lanka and encourage more international tourists to visit Sri Lanka in 2023.
This influencer promotion was conducted under Sri Lanka Tourism's Visiting Blogger Program. With this collaboration, he is expected to create over 5 you tube vlogs about Sri Lanka and many more Instagram and Facebook  posts covering local culture, nature, adventure, food,etc.
Over the eight  days press trip designed by Sri Lanka Tourism Promotion Bureau (SLTPB) , he has travelled  around the island covering Colombo , Habarana, Mahiyanganaya, Ella, Wellawaya, Galle and Koggala.

Sri Lankan Hospitality partners including Galle Face Hotel, Aliya Resort and Spa , Jetwing Hotels, The Fortress Resort and Spa supported Sri Lanka Tourism for this promotion.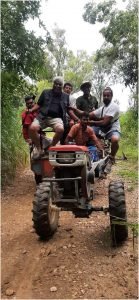 Calling his tour to Sri Lanka 'Let's Lanka', Ashish Vidyarathi has already shared a clip on social media on his arrival to Sri Lanka. The actor invited his fans and well-wishers to visit Sri Lanka, acknowledging Sri Lanka as a beautiful country.
Tourism in Sri Lanka is growing rapidly. For centuries, Sri Lanka has been a popular place of attraction for foreign travelers. The Chinese traveler Fa-Hien visited Sri Lanka as early as the 410's AD/CE, and in the twelfth century, Italian explorer Marco Polo claimed Sri Lanka to be the "best island of its size in the world".
Sri Lanka possesses nearly 1,600 km (994 mi) coastlines with tropical beaches which are popular among both local and foreign tourists. Most of the coastlines of the country are studded with varying coastal features such as bays, lagoons, sandbanks, and rocky headlands. Marine recreation activities, such as sea bathing and swimming, surfing, boating, snorkelling, deep-sea fishing, underwater photography, and scuba diving, can be seen at most of these beaches and related resort areas.

Beaches at Tangalle, Beruwala, Mirissa, Bentota, Unawatuna Arugam Bay, Pasikudah, Hikkaduwa, Uppuveli and Negombo are considered as famous tourist beaches in the country. Coconut Tree Hill is a popular tourist attraction in Mirissa beach and one of the most Instagrammed locations in Sri Lanka.
UNESCO has declared six archaeological and two ecological World Heritage Sites in the country.