BY TTT NEWS NETWORK
DUBAI (UAE), 21 JANUARY 2023:
As the Lunar New Year period kicks off from January 22 to February 5, passengers can embrace the luck and abundance of the season with curated menus in Emirates lounges in Dubai, Singapore and Bangkok, blockbuster movies onboard in Mandarin, Cantonese and Vietnamese, and special offers from EmiratesRED duty free shopping.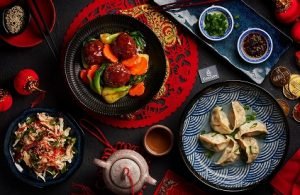 In the seven Emirates Lounges in Dubai on January 22, the first day of the Lunar New Year, breakfast treats will be served in the First and Business Class lounges, including a classic 'Cheung Fun' steamed rice noodle roll stuffed with dried prawn and scallops. At lunch and dinnertime, passengers can indulge in a Cantonese roast duck bao with plum sauce, scrumptious poached shrimp and vegetable dumplings with soy and vinegar dip, or Chinese rainbow salad with smoked salmon, sesame dressing and soya ginger dressing. Desserts in the First Class Lounges will include a choice of sweet and light mango coconut cake with spices or black tea cake, with a tangy yuzu tartlet served with green tea powder available in the Business Class Lounges.
 Passengers can also take a walk to the unique Emirates old-fashioned ice cream carts to enjoy limited edition gourmet Matcha green tea ice cream, made in-house by Emirates chefs.
In Singapore, passengers can enjoy steamed rice with Chinese chicken sausage in lotus leaf, where the sticky glutinous rice traditionally symbolises family cohesiveness. Other main courses include stir fried prawn with green asparagus. Prawn is pronounced as 'Ha' in Cantonese echoing the sound of laughter, symbolically prepared to ensure happiness in the coming year. Delicious desserts include pineapple upside down cake with mango boba, with pineapple considered as one of the lucky fruits in Chinese culture because in the Hokkien Chinese dialect, the word for pineapple 'ong-lai' translates into 'fortune comes'.
In the Emirates Lounges of Bangkok, passengers will be enticed by Chinese steamed red snapper with celery ginger sauce, alongside assorted dim sum, shrimp Siew Mai and Ha Kao shrimp and chicken.
All Emirates passengers are welcome to enjoy Emirates' Lounges; First Class and Business Class customers can access all lounges on a complimentary basis, as well as Silver, Gold and Platinum Skywards members. Other passengers can experience the lounge starting from USD125, enjoying the facilities for up to four hours before a flight.
Onboard Emirates, passengers celebrating Lunar New Year can explore a variety of content with up to 23 Mandarin and 14 Cantonese movies to choose from during January and February, also available with English subtitles, including 'Table for Six', 'Almost Love', 'Reunion Dinner', 'Love Can't Be Said', 'Mozart from Space', and 'Man on the Edge', or settle in to a selection of over 200+ Hollywood movies with Chinese subtitles including new releases 'Black Adam', 'Rogue Agent', 'Ticket to Paradise', 'The Woman King' and 'Elvis'. Passengers can also browse through a music library of 122 Chinese albums and playlists. For those celebrating Vietnamese New Year, also known as Tet Festival, there are 6 Vietnamese movies to choose from, 'The Old Man's Dog', 'Saigon in the Rain', 'The Royale Bride', 'Camellia Sisters', 'Accidentally Dad', and the 'The American Dream'.
As gifting plays an important role in the well wishes of Lunar New Year, Emirates passengers can take advantage of special shopping offers with EmiratesRED and buy any two fragrances to get USD 15 off, on brands including Amouage, Givenchy, YSL, Roja parfums, Versace, Cartier, and Hermes. Passengers can also save up to 15% when buying two products from the same brand, including Cerruti watches, Benefit cosmetics, Elizabeth Arden beauty, Clogau jewellery and more.