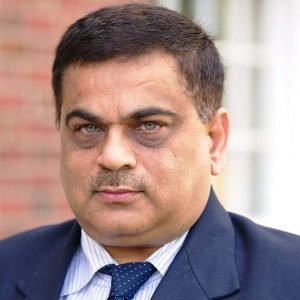 By RAVINDER PAL SAINI ( IFS , Retired)
MEMBER, BOARD OF MANAGEMENT
CENTRAL FOREST UNIVERSITY, DEHRADUN
DEHRADUN, 17 SEPTEMBER 2022
Today eight Cheetahs, the fastest land animals of the planet, have been  reintroduced into India's forests by   Prime Minister Narendra Modi on his birthday . A great initiative by the Government of India, which deserves kudos.
Today 8 Cheetahs, 5 females and 3 males, brought from Namibia are being reintroduced and today PM of India released the first three at Kuno National Park this late morning in enclosures for quarantine.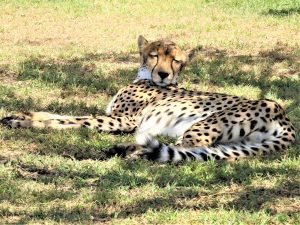 Later PM Narendra Modi and CM of Madhya Pradesh also inspected the cheetah enclosure. The union environment, forest and climate control minister, Bupendra Yadav held a meeting with the directors of all the zoos in the country on the occasion.
A total of 50 african cheetahs will be introduced in the wildlife phase wise. In a special direct chartered flight the cheetahs have been brought to India from Namibia and too 16 hours.
Although the plan was ready in India way back in 2012 but was put on hold by the Supreme Court  in 2013 on plea by some conservationists. On pursuance by the present government with a Cheetah release cum conservation plan the  Supreme Court allowed the plan in 2020. Today the efforts take shape.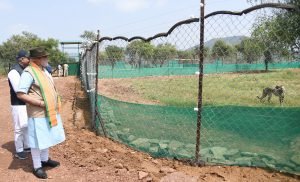 I had the opportunity to visit South Africa, Kruger National Park in 2017 and studied Cheetahs both in the wild as well at the breeding centers there. Hope the planned reintroduction goes well at Kuno National Park, in Madhya Pradesh.
The Cheetahs long back in the 18th Century were brought from Africa by Royals of Maharashtra, Madhya Pradesh and Orissa as their hunting aids. Unfortunately by 1952 they got extinct due to hunting and lack of any conservation plan in place.
The dedicated efforts of the Forest & Environment Ministry, Madhya Pradesh Government, Wildlife Institute of India and all their concerned dedicated Officers deserve salutations.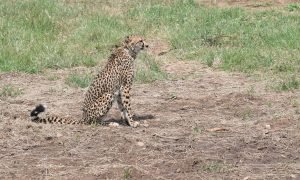 Cheetah Spotted by me in Kruger National Park and at  Moholoholo Rehabilitation Centre During A Study Tour of South Africa – 2017.
A proud moment and thanks to dedicated hard work of our foresters and scientists linked with it.
NOTABLE FACTS:
The Cheetah (Acinonyx jubatus) is a large Feline (family Felidae, subfamily Felinae) inhabiting most of Africa and parts of the Middle East. It is the only extant member of the genus Acinonyx.
Nearly all wild cheetahs can be found in sub-Saharan Africa, where they roam open, grassy savannah plains and open forests.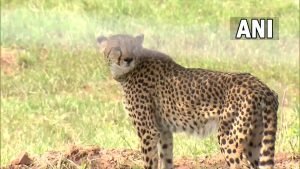 These big cats' bodies grow to between 1.1m and 1.4m metres long, plus a tail measuring 65cm to 80cm. Their weight ranges from 34kg to 54kg, males being slightly heavier.
Cheetahs have a pale-yellow coat with black dots on the upper parts, and are white on the underbelly. Their faces are distinguished by prominent, black lines that curve from the inner corner of each eye to the outer corners of the mouth.
The fastest land animal in the world, a cheetah can reach 112km/h in just three seconds – that's faster than a sports car accelerates! Its body has evolved for speed, with long legs, an elongated spine, adapted claws to grip the ground and a long tail for balance.
Cheetahs are carnivores and live off other animals they find on Africa's plains, including rabbits, warthogs, springboks, gazelles, and birds.
These fierce felines hunt during the day to avoid competition from other powerful predators such as lions, hyenas, and leopards. And boy, can they hunt! First, they use their exceptional eyesight to scan their surroundings before quietly stalking their chosen prey. Then, when the time is right, they sprint from cover, knock down their victim and kill it with a bite to the throat.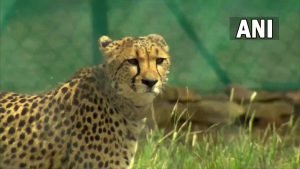 As sprinting at such mega speeds uses a lot of energy, a cheetah chase is usually limited to 200-300m and lasts less than a minute.
Social animals, cheetahs are usually found in groups, consisting of either a mother or her young siblings (who stay together for around six months after leaving the mother) or a coalition of males who live and hunt together. Adult females, however, tend to be solitary and only meet with males to mate.
Females usually give birth to between two to eight cubs at a time. She nurses her youngsters in a lair hidden by tall vegetation, until they are 16 to 24 months old and able to look after themselves.
Sadly, this beautiful animal is threatened by loss of habitat and prey, as well as conflict with humans. As a result, the cheetah is classified as Vulnerable on the IUCN Red list, and, today, an estimated 9,000-12,000 remain in Africa.
Under Project #Cheetah, PM @narendramodi released 8 #Cheetahs brought from Namibia to Kuno-Palpur National Park, M.P.

An endeavour towards environment & wildlife conservation.
#IndiaWelcomesCheetah@moefcc @byadavbjp @JM_Scindia @MPTourism @incredibleindia pic.twitter.com/H1U8FbLTf1

— Ministry of Information and Broadcasting (@MIB_India) September 17, 2022