DEBAJYOTI CHAKRABORTY
KOLKATA, 13 JULY 2022
On 8th July a mega  plantation drive took place in 75 nagar vans across the country thus kicking off setting up of 75 urban forests in the next few years, a project funded by the ministry of environment forests and climate  control. MoEFCC has planned to set up 200 Nagar Vans across the country, in the first phase the work of 75 urban forests will be set up.
In West Bengal , the steel city of Durgapur in Burdwan West district and  terracotta town of  Bishnupur in Bankura district have been identified  for setting up Nagar Van  ( Urban Forest) Project by the MoEFCC. In the neighboring  state of Jharkhand , six cities have been included in the Nagar Van project.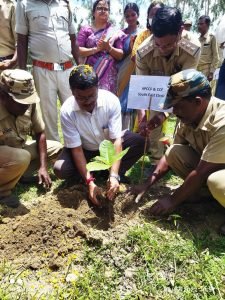 Talking to The Travel And Tourism Times  Kalyan Das, additional chief conservator of forests and CCF, South East circle has  informed that on 25 hectare of land in Kamalpur in Durgapur and at Lalgarh in Bishnupur in Bankura district will come up on 10 hectares of land.
" We are planning to develop the Durgapur Nagar Van on the models of Singapore, but eventually it will look like a Tapavan. In the Nagar van, jogging tracks for the elderly, children's playground, yoga park, water bodies etc  will be developed,"he added.
The Detail Project Report has already been developed. In Bishnupur, Memory Van, Medicinal Van, Astronomy Van etc will be developed. The local people can plant saplings in memory of their near and dear ones Memory Van area.
On 8 July, saplings of fruits and flowers were planted in Bishnupur by S.Kunaldaival, chief conservator of forests, central .
On  World Environment day in 2020 union MoEFCC, Prakash Javadekar had made the big announcement of  setting up of 200 Nagar Vans in the country at a cost of Rs.415 crores.
According to the World Economic Forum, the cities which have more trees are less busy and less noisy. An adult tree can consume 150 kg of CO2 every year. As per Food and Agricultural Organisation (FAO), trees in urban areas minimise ozone, SO2, particulate matter, eliminate CO2 from the environment and generate fresh oxygen.
World Over, metropolises are increasingly creating urban forests. The elusive urban forest (ravines)  that lies beneath Toronto, gives the city the nickname, 'a city within a park'. Established in 1961, the sprawling Tijuca National Park in Rio de Janeiro of Brazil is the world's largest urban forest followed by
Johannesburg in South Africa. Several lakhs of foreign tourists  visit Tijuca, which is home to a mosaic of trails, cascading waterfalls, wildlife, viewpoints and famous landmarks ( most notably the art deco Christ the Redeemer statue).
Singapore, the greenest city of Asia and Thailand's capital  Bangkok have built green corridors that provide space for nature and wildlife
while improving the lives of city dwellers. According to the United Nations (UN) cities will host 68 percent of the global population alone by 2050, thus making such initiatives imperatives.
At present, cities cover just two percent of the planet's surface, and yet they consume approximately 75 percent of its resources. With inefficient buildings abounding and scores of vehicles belching out toxic exhaust fumes, cities also account for some 75 percent of global carbon emissions and half of worldwide waste.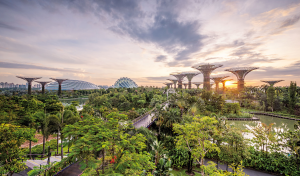 Clouds of smog and soot envelop capital cities around the world, while noise pollution and bumper-to-bumper traffic jams have come to define urban life as we know it. Yet this needn't be the case: as cities across the globe continue to swell, urbanisation presents us with the opportunity to pioneer solutions to combat climate change and threats to public health. Well-planned, sustainable cities have the potential to positively impact the lives of at least half of the world's population today.
If cities are to be our new homes, then they must become sustainable. As Singapore's abundant greenery goes to show, a sustainable future can be created for cities, experts said.
In India many cities do have gardens and parks, like the famous Mughal Gardens, but not green forests. Until , the country's  first urban forest project was set up in Warje at Pune of  Maharashtra by an NGO, TERRE, as a CSR initiative of Tata Motors in 2015.
From a 16 acre barren strip of land today Warje has been successfully developed into a thriving oasis of biodiversity, host to 10,000 indigenous plant species , 29 local bird species, 15 butterfly species, 10 reptile species and three mammal species and has already become a role model of MoEFCC for setting up the 200 Nagar Vans in the next five years in the country.
As per the 2018 figures, per capita green space of Kolkata was 6.61 square meter with a population of 15.20 million and geographical area of 1380 square kilometers, which is much lower than Chandigarh, Gandhi Nagar and Chennai.
India has a rich biodiversity and is host to 4 out of 35 hotspots of global biodiversity with many endemic species. It has 8 percent of the
world's biodiversity, 2.5 percent of the world's land area, 16 percent of the human population and 4 percent of freshwater sources.
The objective behind urban forest schemes is to preserve ecosystem stability, meeting environmental and social criteria. It will help in making the city cooler thus decreasing the usage of air conditioning machines. The Compensatory Afforestation Fund Management and Planning Authority (CAMPA) will allocate the project costs.
Since ages India has a tradition of village forest which has been a very important part of rural life, with this latest initiative of setting up of  'Nagar Vans', the environment, forest and climate change ministry hopes to fill up the gap with ample greenery  in urban spaces that are at present  dotted with concrete jungles, industrial chimneys and automobile emissions.