(Focusing on Ecotourism, Gastronomy Tourism, Adventure Travel, Destination Management and Digital Marketing, the event is composed of four components – Destination Experiences, a Conference, a B2B Adventure Travel Trade Show and various networking opportunities)
BY TTT NEWS NETWORK
BANGKOK, 6 FEBRUARY 2023 –
The Pacific Asia Travel Association (PATA) is set to organise the PATA Destination Experience Forum and Mart 2023 (PDFM 2023) in Kuching, Sarawak, Malaysia from  21 st to 23 rd June .
The event, generously supported by Sarawak Tourism Board, is composed of four components: destination experiences, a conference, a B2B adventure travel trade show with 1-1 meetings, and various networking opportunities. It provides an opportunity for tourism professionals to gain first-hand practical experience and knowledge in marketing and managing attractions, tourism products, and services that are relatively unknown by both trade and consumers to a global audience in a responsible and sustainable manner.

"At PATA, we continue to focus on bringing greater depth and value to our events, understanding that, more than ever, delegates are more focused on four aspects when attending events: trading, networking, learning, and socialising," said PATA Chair Peter Semone. "As the travel and tourism industry in the Asia Pacific region is seeing positive signs of recovery, the inaugural PATA Destination Experience Forum and Mart 2023 looks to highlight the best practices in destination marketing and destination management in support of a responsible and sustainable recovery for the region. We all look forward to welcoming you to Sarawak, Malaysia."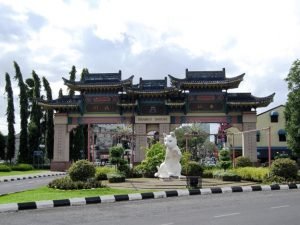 Focusing on Ecotourism, Gastronomy Tourism, Adventure Travel, Wellness (particularly Sensory Nature Activities), Destination Management and Digital Marketing, the three-day programme begins with a one-day destination experience through a choice of technical tours, followed by a conference and travel mart spread across two full days, as well as various networking opportunities throughout the programme.
With gastronomy tourism being one of the themes of the PATA Destination Experience Forum and Mart 2023, Sarawak Tourism Board CEO Sharzede Datu Haji Salleh Askor said the theme suits Sarawak perfectly, as its capital city Kuching was recognised as the "City of Gastronomy" by the United Nations Educational, Scientific and Cultural Organization (UNESCO)'s Creative Cities Network (UCCN) in 2021.
"Sarawak's diversity in ethnicities and culture has created a wealth of authentic dishes and food that are staples of the indigenous households, passed down through generations, making Sarawak not only a destination rich with nature and culture, but also a place to enjoy and relish in variety of local foods," said Sharzede Datu Haji Salleh Askor.

The year 2022 has been a thriving one for Sarawak tourism as the industry has seen a substantial surge in tourism arrivals since the region opened its international borders in April 2022, with the rise of "revenge travellers" ticking off Sarawak from their wish-list and the increasing demand for ecotourism-based destinations, such as national parks and nature reserves, post-pandemic.
Kuching is the capital city of Sarawak, Malaysia, located along the southwest tip of the island of Borneo, the third largest island in the world. A vibrant city well known for its immersive culture, adventure, nature, food, and festival elements; it makes you feel at home away from home. Visitors can enjoy pristine rainforests, meet gentle orangutans, spot the world's largest flower, the Rafflesia, check out the second largest museum in Southeast Asia, the Borneo Cultures Museum, and find the rare proboscis monkey endemic to Borneo at the oldest national park in Sarawak, Bako National Park.
Registration is now open for buyers, sellers, and conference delegates. Interested delegates can register now and enjoy a Super Early Bird Rate and receive a 15% discount off registration fees until February 15. Afterwards, delegates can enjoy an Early Bird Rate and receive a 10% discount until March 15.
Following the event, delegates can extend their stay and visit the Rainforest World Music Festival, which takes place from June 23-25. Event delegates will receive complimentary access to the first night of the festival on June 23 as well as a discount on tickets to access the full event during the weekend of June 24-25.