BY TTT NEWS SERVICE
KOLKATA, 18 NOVEMBER 2022
PM Narendra Modi will inaugurate the Rs.640 crores greenfield Donyi Polo airport in Holongi  about 15 kilometres from capital Itanagar in Arunachal Pradesh tomorrow.
Donyi Polo  airport is spread over an area of 690 acres and consists of a 2300 metres runaway.  The airport is durable in all weather conditions and the terminal building promotes recycling and renewable energy utilisations.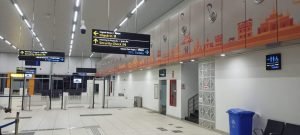 The name Donyi Polo is derived from the age-old indigenous reference of Arunachal Pradesh. Donyi means Sun and polo means moon.
The inauguration of the Donyi Polo airport is a key step forward  by the central government and union civil aviation ministry to boost connectivity in the north eastern region.
The central government is working on its Act East policy and is developing the infrastructure and connectivity of the region to modern standards.
India's leading airline Indigo and FlyBig have been the first two airlines who have booked slots for commercial passenger flight services from the upcoming Donyi Polo Airport in Holongi in Arunachal Pradesh.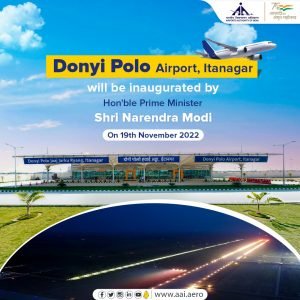 Indigo Airlines will start Holongi to Kolkata and Mumbai  flight operations from 28 November . There will be connecting flights to other cities. FlyBig has booked slots for the Holongi – Guwahati route.
Meanwhile, Alliance Airlines has also planned to start  flight services from Holongi to Dibrigarh, Tezu and Pasighat,  aviation industry sources said.
Negotiations are also going on with low cost carrier Spicejet and India's newest domestic airlines operators Akasa Air.
It will be the first airport in Arunachal Pradesh. The International Air Transport Association(IATA) code of Donyi Polo Airport is HGI and its International Civil Aviation Organization (ICAO) code is VEHO.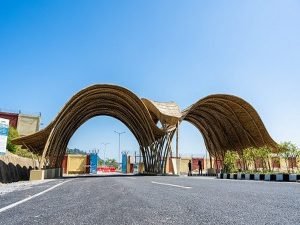 Donyi polo Airport has a magnificent bamboo welcome gate, designed by bamboo artisans led by young Arunachal architect, Aroty Panyang, the gate is 23 feet high, 82 feet wide built in the area of 2500 square feet with cane and bamboo.
The design of the gate is inspired by Arunachal Pradesh's state bird – The Great Hornbill and represents the significance of Arunachal's first full-fledged commercial Airport at Hollongi, Arunachal Pradesh.
Arunachal Pradesh is going to get its #FirstGreenfieldAirport. The Donyi Polo Airport, Itanagar will be inaugurated by Hon'ble PM @narendramodi tomorrow, 19th Nov'22. The airport will improve ease of access to Itanagar, the captial city of the state. pic.twitter.com/iRCFcVSsiB

— Airports Authority of India (@AAI_Official) November 18, 2022