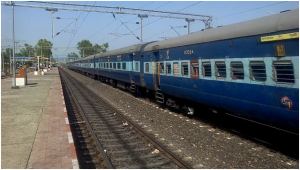 TTT NEWS NETWORK
KOLKATA, 19 NOVEMBER 2023:
12361 UP ASANSOL – MUMBAI CSMT EXPRESS SCHEDULED TO LEAVE ASANSOL AT 19.45 HRS ON 19.11.23 HAS BEEN RESCHEDULED AT 21.30 HRS ON 19.11.23 DUE TO LATE RUNNING OF CORRESPONDING DOWN TRAIN .
EASTERN RAILWAY TO RUN SPECIAL TRAIN FROM HOWRAH TO BHAGAT KI KOTHI:
Eastern Railway is continuing the series of new festival Special Trains in different directions to cater to the need of intending passenger. Now in this festive season of Chhat, to clear the extra rush of passengers, Eastern Railway has decided to run a special train from Howrah to Bhagat Ki Kothi. 03007 Howrah – Bhagat Ki Kothi Special will leave Howrah at 23:40 hrs. on 21.11.223 to reach Bhagat Ki Kothi station at 07:00 hrs. on 23.11.2023.
The train will stop at Barddhaman, Asansol, Dhanbad, Koderma, Gaya, Sasaram, Pt. Deendayal Upadhyay, Mirzapur, Prayagraj, Kanpur Central, Tundla, Agra Fort, Bandikui, Dausa, Jaipur, Kuchaman City, Makrana Jn., Degana Jn., Merta Road Jn. & Jodhpur stations enroute.
The train will have general second class, sleeper class & air-condition accommodation.