BY  DEBASHREE CHAKRABORTY
KOLKATA, 28 JANUARY 2023
The Rajasthan government has planned to focus on rural employment with eco tourism, home stay projects which are all set to further boost tourism in the state.
Already the Ashok Gehlot government in Rajasthan has started a new rural tourism scheme and has been offering various sops and concessions under this scheme to the interested investors.
As per this new Rajasthan Rural Tourism Scheme  , the state  government will promote tourism throughout the state which will showcase its rural life, rich art, culture and heritage.
The state government feels that the effort will not only promote rural tourism in new destinations but at the same time will change the face of the rural economy through direct and indirect local employment generations.
There will be several tax benefits and the government will reimburse the initial investments like 25 % the stamp duty etc.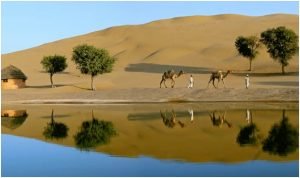 Rs.25 lakhs loan will be provided under the Mukhyamantri Laghu Udyog Protsahan. Local startups, folk artists, and handicrafts will be given the preferences.
Under the  Rajasthan Rural Tourism Scheme, rural guest houses will be developed and each will have at least six to ten keys.
Agriculture or eco tourism units will be set up on farm lands having an area of about ranging from  2000 square metres  to two hectares.
Camping sites on agricultural lands having size of 1000 square metres to one hectares can be set up. Vehicle parking facilities will also be provided for the tourists.
The home stays in rural areas should have at least five rooms. In India, other states like Jammu and Kashmir and Kerala are also focussing on rural homestays and new tourism destination developments.
Since the outbreak of the covid -19 pandemic, homestays have become immensely popular worldwide and are playing a significant role in reducing the carbon footprint.
The government is also focussing on setting up caravan parks . For setting up caravan parks a minimum area of 1000 square metres and maximum of 1 hectares of land are required, besides providing vehicle parking facilities.
Caravan Tourism in Kerala has already been popular since its launch by the Kerala Tourism department. The Rajasthan Tourism , also is now focussing on caravan tourism, which is very popular worldwide.
Recently, the state government has also opened the border tourism for all tourists in Rajasthan.
About 25 lakhs people, both domestic and international tourists visit Rajasthan every year, with Gujarat and the state of West Bengal being the two top resource markets within the country.