BY TTT NEWS SERVICE
NEW DELHI, 14 NOVEMBER 2022
To boost the tourism sector  which has been badly affected due to the outbreak of the covid -19 pandemic, India and Cambodia has planned to start direct flight services between the two countries.
To travel to Cambodia from various locations  in India, at present , tourists  have to take a connecting flight to a nearby  Asian country like Singapore, Malaysia, or Thailand.
"There is a choice of two flights, Phnom Penh to New Delhi and Bodhgaya between Phnom Penh and Bodhgaya. Two flights we are discussing because a lot of Cambodians visit every year, mostly old people who go there," explained Information  minister of Cambodia, Khieu Kanharith .
Devyani Khobragade, India's Ambassador to Cambodia said that the direct flight services will boost tourism on both ends.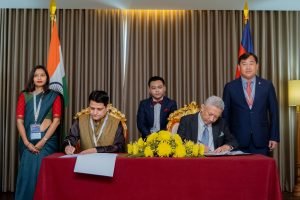 " Indians will visit Cambodia to see the World's largest temple , Angkor Wat and the Cambodians will visit the land of the Buddha and can see the Buddha tourism circuit," added Devyani Khobragade.
India and Cambodia are celebrating seventy years of bilateral trade.
The Archaeological Survey of India (ASI) is working for the restoration of temples in Cambodia including the  famed Ta Prohm Temple in Angkor Wat. The City of Angor has the UNESCO World Heritage Site.
India is  also funding the conservation work of ancient Ramayana-based murals in Angkor Wat's Wat Raja Bo Pagoda in Cambodia's cultural town of Siem Reap. " A MoU has been signed  for the restoration of Ramayana murals in Wat Bo, it is a living pagoda in Siem Reap. This is part of our preservation of the Ramayana trail from India to South East Asia," says Devyani Khobdagade.
In the ASEAN – India Commemorative Summit, Vice President Jagdeep Dhankar has been present and a number of memorandum of understandings ( MoU) have been signed between India and Cambodia.
A MoU has been signed to reintroduce  tigers into Cambodia for cooperation of biodiversity conservation and sustainable wildlife management between the ministry of environment, forests and climate control of India and ministry of environment of Cambodia.
India will help in both capacity building and then ultimately transfer of Tigers to Cambodia. Incidentally India is called the land of the Tigers and has the highest tiger population in the world.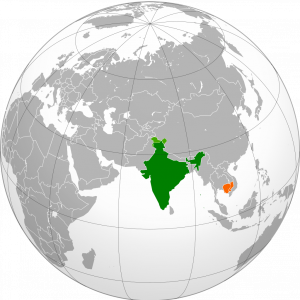 Besides, another MoU has been signed between IIT Jodhpur and Institute of Tech Cambodia for digital conservation and cultural heritage  and will help in digital mapping of Indian origin temples  in Cambodia.
VP Jagdeep Dhankar is leading the Indian delegation in a three days tour and has arrived in Phnom Penh. His wife, Sudesh Dhankar and union external affairs minister S.Jaishankar is also accompanying him.
Relations between Cambodia and India goes back to ancient times. India's influence in Cambodia is visible from the Hindu-style temples of Angkor Wat to written Khmer, which is a derivative of the Pallava script from present-day southern India.
Both nations are part of the Non-Aligned Movement. India established formal diplomatic relations with the People's Republic of Kampuchea and opened its embassy in Phnom Penh in 1981 when Cambodia was internationally isolated. India had provided various personnel to conduct the country's UNTAC-sponsored elections in 1993. The Government of India agreed to preserve Angkor Wat temple when the Government of Cambodia appealed, between 1986 and 1993 and spent around 4 million dollars during this conservation.
Theravāda Buddhism is the country's state religion, practiced by around 95 percent of the population, and its intrinsic Indian culture has considerably impacted the society and culture.
Indian diaspora in Cambodia :
The first Indians in modern times to settle in Cambodia arrived in the 1960s and 1970s. Primarily coming from the northern province of Punjab, they worked as jewellers, moneylenders and traders around Central Market. There is an Indian diaspora in Cambodia and they have established an Indian Association, Cambodia.
#Flashback: Vice-President @jdhankhar1 arrived in Phnom Penh as part of his three-day visit to Cambodia @IndianDiplomacy @ASEAN@indiatoasean@states_mea@PMOIndia@PeacePalaceKH@devyani_K#Ind70@MEAIndia pic.twitter.com/jf8vOrPjOz

— India in Cambodia (@indembcam) November 14, 2022