BY DEBAJYOTI CHAKRABORTY
FARIDABAD ( HARYANA), 21 AUGUST 2022
Prime Minister Narendra Modi will dedicate to the nation the largest super speciality  private sector hospital in the country, 2600 bed health care  institution ,Amrita Hospital in Faridabad of Haryana founded by  Mata Amritanandamayi Math (MAM) , which will  set to act as a  game changer in the healthcare scenario  in the land of Sushruta in the years to come.
Humanitarian Amma will grace the occasion with her presence and mark a new chapter of compassionate and inclusive care by MAM. It will have 81 specialty departments and  also a state of the art centre for medical research facilities.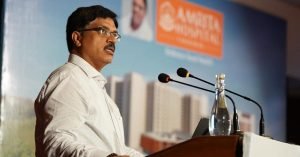 Governor of Haryana, Bandaru Dattatreya and chief minister Manohar Lal Khattar will also be present on the occasion along with other dignitaries. In the first phase it will have 550 beds which will be upgraded to 750 and gradually to 2600 beds by 2027-29. It will be the first such hospital in the country where doctors will not have a protruding belly.
A bust of Sushruta, is tribute to  the founder of Ayurveda, and regarded as the first surgeon  on earth  looking at the hospital sums up the unique facilities available here – blending alternative medicine , especially ayurveda, yoga, homeopathy with the modern allopathic medicines. The focus of the hospital  will be on 'pain management' and "make death comfortable when it is inevitable".
The hospital will not practice defensive medicine and give unwarranted, irrational antibiotics to its patients. Defensive medicines cost around Rs.80,000 more to patients and Amrita Hospital will be even lower than the lowest pricing. This hospital will have a trained carer who will  break the bad news, doctors will have multi tasks like community visits, there will be counselling of patient parties etc. Truly this hospital will redefine the healthcare sector in the country in the days to come.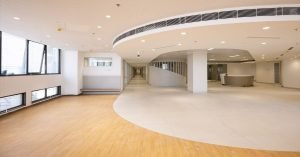 The campus will have a helipad for providing air ambulances for critical care patients, a four star hotel,  and  a 498 key guest house for attendants accompanying the patients. Patients entering the complex will be greeted  with a polite " Namah Shivay'.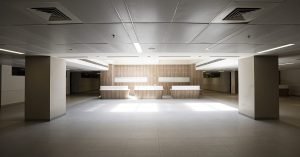 It will have 534 critical care beds, highest in the country and 64 modular operation theatres. The hospital  has been selected as a part of 100 energy efficient model buildings in the country by UNDP and received an award from GRIHA Council for its integrated water management system.
The hospital's  benefits will go beyond providing access to the latest in healthcare technology and high-quality patient care in the Delhi NCR. Amrita Hospital, Faridabad has a vision to deliver its services to a patient catchment area extending all over North and North-East India.
From a socio – economic perspective, the hospital will provide immediate support to the area with direct employment for approximately 2,000 people and indirect staff opportunities for 2,000 more. Once fully operational, it will have around 10,000 staff and more than 800 doctors.
According to Dr. Sanjeev K Singh, Resident Medical Director of Amrita Hospital in  Faridabad, cutting-edge medical research will be a strong thrust area.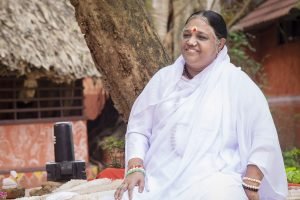 "The hospital will have a dedicated research block spread across a seven-floor building that totals three lakh sq. ft. with exclusive Grade A to D GMP labs. There will be a focus on identifying newer diagnostic markers, AI, ML, Bioinformatics etc. We are in the process of entering into research collaborations with some of the world's biggest names in medical science," Dr. Sanjeev K. Singh  said.
"The comprehensive transplant program offered by the hospital will be among the biggest in the country. Amrita Hospital, Kochi has pioneered surgeries with South Asia's and  India's first two bilateral  hand transplant surgeries  and the country's first upper-arm double hand transplant in 2015 , amongst several other procedures, and this knowledge has been carried over to Amrita Hospital, Faridabad," he further added.
The sprawling state of the art facility set amidst a lush  green surrounding ( 70 percent of the campus is green)  in Faridabad Sector – 88 will have a total built-up area of one crore sq. ft. with a 14-floor tower that will encompass the key medical facilities and patient areas. It will be home to 81 specialities and seven Centres of Excellence, including oncology, cardiac sciences, neurosciences, gastro-sciences, bone diseases & trauma, transplants, and mother & child care. The hospital will also have India's largest facility to tackle infectious diseases.
Training of medical students and doctors is another strong focus area. The hospital will have a state-of-the-art robotics, haptic, and surgical-medical simulation center. Spread across four floors and 1.5 lakh sq. ft., it will be the biggest such learning and development facility for doctors in the country. The hospital will also host a medical college with a built up area of 5.2 lakh square feet  and India's biggest allied health sciences campus. Amrita Vishwa Vidyapeetham is recognised as an Institute of Excellence by the central government already.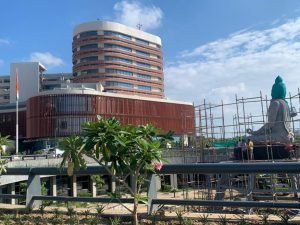 In the future it will have over 20,000 students, 800 phD faculty and over 250 programmes.
Amrita Hospital, Faridabad is a substantial addition to India's healthcare infrastructure. It is one of the country's largest green-building healthcare projects with a low carbon footprint, and it is an end-to-end paperless facility with zero waste discharge.
As part of its community initiatives, Amrita Hospitals has already started medical outreach programs at various residence welfare associations in and around Faridabad. These include awareness programs for the elderly with a focus on those suffering from neurological ailments, health talks for school children, general health check-ups, and many more.
This humongous super-speciality healthcare facility, constructed with Amma's blessings and love, is dedicated to the people of India for healing the sick, helping the needy, and advancing the cause of medical science. This is the second large-scale Amrita Hospital in India after the iconic 1,300-bed Amrita Hospital, Kochi was established 25 years ago by MAM.
The campus has taken measures  on  scientific solid and bio medical waste disposal management  and recycling , rain water harvesting to recharge ground water etc.
Amrita Hospitals and the allied medical institutions of MAM have provided completely free treatment to 5.1 million patients and subsidised care to another 300,000 patients—a total of ₹764 crore in charitable medical care.
Amma is focused on alleviating the burden of the poor through helping to meet each of their five basic needs: food, shelter, healthcare, education, and livelihood. With that intention, Amrita Hospital, Faridabad will carry forward the legacy of Amrita Hospitals that began in 1998.
Mātā Amritānandamayī Devī (born Sudhamani Idamannel; 27 September 1953), often known simply as Amma ("Mother"), is an Indian Hindu spiritual leader, guru and humanitarian, who is revered as 'the hugging saint' by her followers.
In 2018, she was felicitated by Indian Prime Minister Narendra Modi for the largest contribution to the Government of India's Clean India Campaign Swachh Bharat Mission.