BY DEBASHREE CHAKRABORTY
KOLKATA, 24 MARCH 2023:
The Ministry of Heritage and Tourism of Sultanate of Oman has organised a road show at Park Hotel in Kolkata today, in which the members of the United Forum of Travel Agents association of Kolkata were also present.
Both the Heritage and tourism department of Sultanate of Oman and Oman Air showed beautiful powerpoint presentations.
Mr. Yousuf Khalaf Al Mujaizi, assistant director of Business Development,Mubarak Salim Al Harrasi, Head Section of Arab and Asia Markets , sultanate of Oman, Arjun Chada, country manager, Avneet Kaur, Manager – Sales , Bino George, Manager offline sales India, Oman Air, Vineet Suryawanshi, assistant sales manager of Oman Air etc  were  present.
For the United Forum of Travel Agents Association of Kolkata, Mr. Amin Ashgar, President of Skal Kolkata, Mr. manav Soni, Chairman (east) of Travel Agents Association of India (TAAI), Mr. Anil Punjabi, Chairman ( east) of Travel Agents Federation of India (TAFI) were present.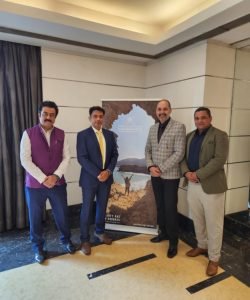 Talking to www.travelandtourismtimes.com, Mr. Amin Ashgar, President of Skal Kolkata has informed that Oman is a big tourism destination for the travel agents and they are now promoting it in a big way, and the most important news is that a new airlines will be launched again in Kolkata.
" We have sought direct flight services from Kolkata to Muscat by Oman Air and the United Forum of Travel Agents Association of Kolkata has been requested to submit a representation within the next couple of days. We are preparing it and will send it very soon,"he added.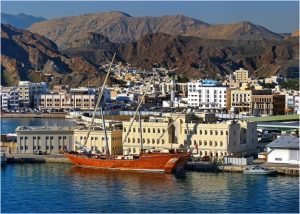 Oman is a beautiful destination that can be explored and there are a lot of opportunities for wedding, MICE, luxury travel, mountain, desert etc. A four  night Oman  package can be easily sold to the city travellers who always want new destinations, added Mr. Amin Ashgar.
Mr Manav Soni said that this is a destination of the Middle East which the heritage and tourism department of the Sultanate of Oman is very aggressively promoting.

" Already there is connectivity from Delhi and Mumbai and today we have urged direct flights from Kolkata and hopefully very soon the first flight will take off as the discussions have been very much positive. A complete vacation – mountains, wadi, beaches in totality a complete value of money even for wedding and MICE tourism," Mr. Manav Soni added.
Mr. Anil Punjabi said that one more flight from the middle east airlines  is coming to the city, thgus raising the potential of the eastern part of India.
" Even getting an online  VISA is very easy and it is a shopping and family destination. But the biggest attraction is that now onwards we can sell twin countries – UAE and Oman . It takes around three hours by road from Dubai to reach Muscat. Hence easily, the tourists can visit two countries together like Suingapore – Hong Kong, Singapore – Bangkok, Singapore- Kualalumpur, Bangkok – Jakarta etc," explained Mr. Anil Punjabi.
Here also tourists can similarly  visit the cities like  Dubai, Abu Dhabi, Sharjah and Muscat, he said.