BY DEBAJYOTI CHAKRABORTY
KOLKATA, 4 SEPTEMBER 2022
The theme for the 22 nd WORLD COCONUT DAY 2022 was 'Cultivate Coconut For  a Happy Life and Future'.
This year the World Coconut Day was observed on 2 September and the aim of observing  it is to spread awareness across the industries. The day is about coconut as a nutritious fruit, a crucial raw material and a significant crop. After all, it is one of the most versatile natural gifts.
The Coconut Development Board (CDB) in India observed World Coconut Day in the states of Kerala, Tamil Nadu, Karnataka, Goa, West Bengal, Andhra Pradesh and Odisha.
On 2 September 2009, the first World Coconut day was observed by Asia Pacific Coconut Community (APCC).
Every year under the APCC by the authority of UN-ESCAP (United Nations' economic and social commission for the Asia Pacific), this day is organised to highlight their policies and mark the course of action for promoting this tropical fruit and bringing awareness regarding its health benefits.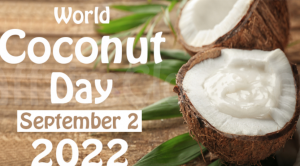 This year on the occasion of the World Coconut Day, the union minister of agriculture and farmer's welfare, Narendra Singh Tomar has inaugurated Gujarat State Centre of Coconut Development Board in Junagadh.
Indonesia is the world's largest producer of coconut. India's share was 34 percent of the world's total coconut production in 2020-2021 and India is the third largest coconut producer after Indonesia and Philippines.
Established in 1969, the headquarters of International Coconut Community (ICC) is in Jakarta, Indonesia.
To celebrate the World Coconut Day this year , Booking.com hascurated a list of five destinations where local delicacies prepared from coconuts are ver famous and popular.
These five destinations are – Beijinhos in  Brazil, Khow suey in Myanmar, Thit Kho in Vietnam, Buko Pandan in Philippines, Haupia in Hawaii.
There are several world famous coconut recipes in continental, asian and indian foods. Even coconut ice creams are very delicious.
In this Ganesh Chaturthi in India, coconut ladoo, coconut barfi are very much popular and offered to Lord Ganesha by the devotees.
In Hindu religious belief coconut is considered as the symbol of the three gods- Brahma, Vishnu and Mahesh. Coconut water also has special significance in Hinduism. That's why most of the hindu pujas, traditions and customs including bhoomi puja  offering coconut or in Sanskrit 'Sriphala' or 'divine fruit' or 'God's fruit'  or breaking coconut is considered as a sacred thing.
The three marks on the coconut (Nariyal) is considered to be the three eyes of Lord Shiva. That is why coconut is termed as auspicious in puja rituals.
The mentions of coconut are found in the "One Thousand and One Nights" story of Sindbad the Sailor. He is said to have sold it during his voyage. Marco Polo called this tropical fruit Nux Indica in 1280. The names used by the Arabs to refer to it mean "Indian nut". The crew of Vosco da Gama's ship named it Coco after a ghost in some Portuguese folklore as the rough surface of coconut reminded them of the ghost.
God's Own Country, the Indian state of Kerala is literally the Land of Coconut Trees' as it is coined from two words- 'Ker' meaning coconut tree and 'Alam' meaning land.
Kerala Tourism Board  conducts tours to fields of coconut plantations in Kochi, Paravur, Periyar, Kumarakom, Mararikulam and Thiruvananthapuram.
The Karnataka Tourism department also encourages and promotes tourism on World Coconut Day.
FACTFILE:
Coconuts can stay afloat over the ocean and can travel great distances because of their water resistance nature.
Coconut Oil has many benefits like skin nourishment, improves digestion and reduces allergic conditions.
Coconut water can be used as a substitute for blood plasma.
A coconut tree can produce 180 fruits in one harvest year.