BY DEBAJYOTI CHAKRABORTY
KOLKATA, 12 JANUARY 2023
In the year 2022 about 11.5 million people visited Thailand, out of which 9.6 lakhs people were from India,  and in this year the traget is over 25 million, said Mr. Pipayan Atipatya, acting consul general of Royal Thai Consulate General , Kolkata in his inaugural speech at the Amazing New Chapters Presentation of Thailand at Oberoi Grand Hotel here today.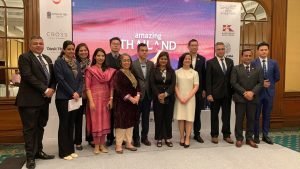 He further said that the past three years have been challenging for tourism sector in Thailand, and the country is facing challenges of the economic  decline and the effect of the Ukraine war.
There has been a long strong bilatyeral relationship between  Incredible India and Amazing Thailand  and the country is not only safe but convenient for the people of India and welcom them to visit Thailand in this new year , he added.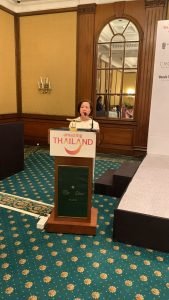 " We also organise annual Thai festivals and people here are accustomed with Thai culture and food," Mr. Pipayan Atipatya said.
Smt. Siriges – A-Nong Trirattanasongpol said that tourism contributres 20 percent of Thailand's total GDP. In 2019, a record number of Indian have visited Thailand and out of 1.96 million Indian visited Thailand, 1,96,000 were from West Bengal and that's why this state is so important for tourism in Thailand. " Thailand is for all from children to family, weddings, honeymoners, MICE, weddings, golfers etc,"she added.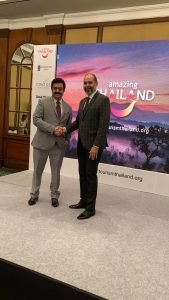 In an effort to promote Thailand as a perfect holiday destination and to re-connect with the Kolkata travel trade in the New Year, Tourism Authority of Thailand-New Delhi office organized a destination presentation and update followed by networking lunch for travel agents, wedding planners and travel media in Kolkata at the The Oberoi Grand on 12th January 2023.
The afternoon started with B-B session between Thai hotel representatives and the Travel Trade representatives  in Kolkata. The participating hotels included well known hotel chains in Thailand like, Banyan Tree Hotels & Resorts, Dusit Thani Hotels & Resorts, Kata Group & Beyond Resorts, La Vida Samui Hospitality Group, Preferred Hotels & Resorts, Cross Hotels & Resorts. National carrier of Thailand, THAI Airways International also participated in the event.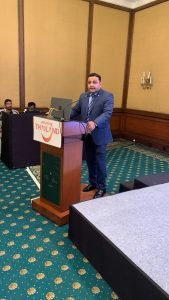 This was followed by a destination update and presentation highlighting the current tourism updates in Thailand for Indian travelers. The presentation also emphasized on "Visit Thailand Year 2023" along with TAT's new marketing campaign "Amazing New Chapters" A to Z Thailand has it all. This campaign emphasizes that Thailand has everything to suit each traveler's needs and wants, and offers new perspectives as well as new experiences in Thailand.
Next there were product presentations by the Thai hotel partners and airline partner, who showcased their products to the travel trade and highlighted the USP's of their hotels/airline.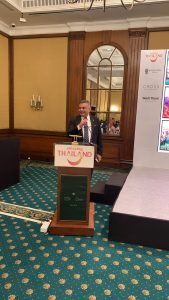 The afternoon ended with an exciting Lucky draw and authentic Thai food lunch.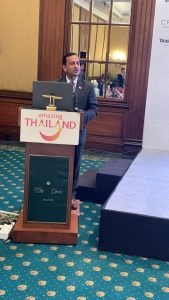 The event saw a good attendance of about 60 guests including travel agents, wedding planners and travel media. This was a great initiative to connect the Thai hotels and airline with the Kolkata travel trade and also to keep them updated on tourism in Amazing Thailand.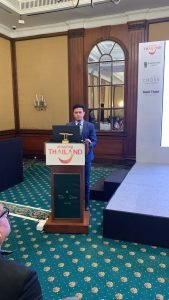 Smt. Siriges – A—Nong Tirirattanasongpal, new director of Tourism Authority of Thailand (TAT), New Delhi, Mr. Krida Srisomwong, Deputy Director of TAT, New Delhi, Smt. Pinki Arora, Sahina Malik, of TAT, New Delhi, Mr. Anil Punjabi, (Chairman), Travel Agents Federation of India (TAFI), Mr. Manav Soni, Chairman ( East) of  Travel Agents Associatoion of India (TAAI), Sandeep Raghav, Director ( Business Development ), India of Cross Hotels and Resorts, Rakesh Bhandari, Director Sales of Dusit Hotels and Resorts, Smt. Tekla Maira, Regional Director ( Sales), India of Banyan Tree Group, Mr. Jit Bose, Director, Global Sales and Development, South Asia of Preferred Hotels and Resorts, Manas Sinha, Director, Jitendra Singh , Executive ( Operations) of LA Vida Samui Hospitality Group, Nisha Shrivastava, Head – Sales and Marketing of kata Group, Vandana Mathur, Senior Manager ( Sales and marketing India), Kata Group, Sajid Ahmad Khan, Thai Airways  etc have particiapted in the event today.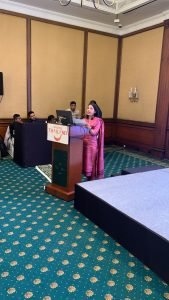 The current covid update is that only 1000 people are admitted and the situation is under control. Thailand has 59 JCI accredited hospitals.