BY DEBAJYOTI CHAKRABORTY
KOLKATA, 23 OCTOBER 2022
The social media and the internet has been rocked after a video post of Idli ATM  went viral last week and this week a video post by a food blogger of blue idli preparation went viral after a social media post.
Blue and white coloured idlis on platter with green chutney- a post shared by Jyoti Kalburi is definitely going to redefine the preparation of the most popular South Indian food in the world, be it in breakfast, lunch, dinner or any time in the day throughout the globe certainly.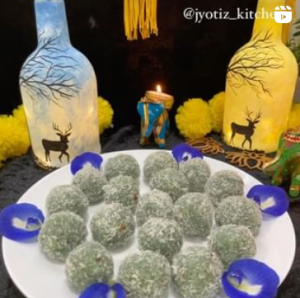 In JYOTIZ KITCHEN she has not only prepared the awesome blue pea idli, but also shared another post of preparing Blue Pea Suji Laddu, in this ongoing  Diwali festive season in the country.
BLUE PEA IDLI :
The video of Jyoti Kalburgi shows how she plucks the blue coloured butterfly pea flowers from the garden in the backyard of her house and after washing boils its petals.
After straining the blue coloured hot water to remove the petals she mixes it with the idli batter and prepares the idli like other normal idli making.
The blue coloured fluffy cloud like end products will definitely bring saliva in our mouth. With a mix of white and blue idlis separated by green chutneys in between, the innovative idli making  video is simply captivating the social media interest these days .
The food blogger claims that there is a difference in taste of the blue idli and in fact it is also healthy.
BLUE PEA FLOWER:
In India, it is revered as a holy flower ( Aparajita) , used in daily puja rituals mainly for worshipping Lord Shiva.
Culinary use-
In Southeast Asia, the  blue pea flower flower is used as a natural food colouring to colour glutinous rice and desserts like the Eurasian putugal as well as an Ayurvedic medicine. In Kelantan, in the north-east of peninsular Malaysia, it is an important ingredient in nasi kerabu, giving it its characteristic bluish colour. In Burmese and Thai cuisines, the flowers are also dipped in butter and fried. It is also used to colour the Nyonya dish Pulot tartal.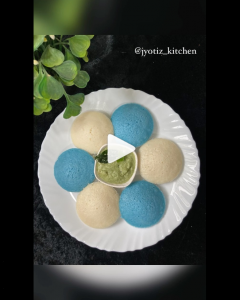 Butterfly pea flower tea is made from the ternatea flowers and dried lemongrass and changes color depending on what is added to the liquid, with lemon juice turning it purple.
In Thailand and Vietnam, this butterfly blue pea flower tea is commonly mixed with honey and lemon to increase acidity and turn the beverage a pink-purple color, to produce for a drink usually served after dinner, or as a refreshment at hotels and spas. The drink is a typical local drink like chamomile tea is in other parts of the world. The tea is found in both hot and cold varieties.
The flowers have more recently been used in a color-changing gin. Blue in the bottle, it turns pink when mixed with a carbonated mixer such as tonic water due to the change in pH. As organic colours are not permanent, this type of gin is recommended to be stored in a dark place to maintain the effect.
Traditional medicine –
In traditional Ayurvedic medicine, it is ascribed with various qualities including memory enhancing, nootropic, antistress, anxiolytic, antidepressant, anticonvulsant, tranquilizing, and sedative properties.  Its extracts possess a wide range of pharmacological activities including antimicrobial, antipyretic, anti-inflammatory, analgesic, diuretic, local anesthetic, antidiabetic, insecticidal, blood platelet aggregation-inhibiting and for use as a vascular smooth muscle relaxing properties. This plant has a long use in traditional Ayurvedic medicine for several diseases and scientific studies have reconfirmed those with modern relevance.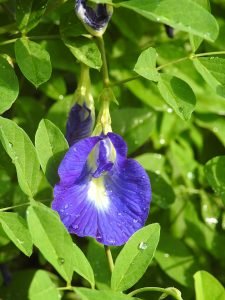 In recent years, the plant has also been studied for its antioxidant content and healthy properties. In particular, some studies suggest that butterfly pea flowers may help ensure skin and hair health, promote weight loss, and reduce blood sugar levels.
Butterfly pea flower tea, commonly known as blue tea, is a caffeine-free herbal tea, or tisane, beverage made from a decoction or infusion of the flower petals or even whole flower is very much popular in South East Asia.
https://www.instagram.com/reel/CkBeiAQA1vX/?utm_source=ig_web_copy_link