BY DEBAJYOTI CHAKRABORTY
KOLKATA, 22 OCTOBER 2022
The West Bengal Comprehensive Area Development Corporation (WBCADC), which is under the department of panchayat has announced the Diwali and Bhaiphonta Special online thalis.
Sond under its brand name Mrittika, the WBCADC online puja bhog and other thalis on all festive occasions of hindus, muslims and christsinas have always been a hit at Kolkata.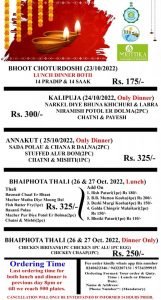 Talking to The Travel and Tourism Times, Soumyajit Das, administrative secretary of WBCADC said that in this Durga Puja it has earned over Rs.17.77 lakhs through online bhog thalis and counter sales.
" We have earned Rs.12.45 lakhs from the food outlets outside eight prominent Durga puja pandals in Kolkata and Rs.5.31 lakhs through online sales of  thalis,"added Soumyajit Das.
Swagata Roy, marketing manager of WBCADC said that on the day of bhoot chaturdashi on 23 October, the package is Rs.175 and both in lunch and dinner 14 saak and 14 pradips will be available.
On 24 October Kali Puja,  on dinner  the charge of thali is Rs.300 and will have narkel diye bhuna khichuri and labra, niramish potol er dolma (2 Pc), chatni and payesh.
Annakut on 25 December ( only dinner) will have sada pulao, chana dalna (2pc), stuffed aloo dum (2Pc), chatni and misti 1pc). The thali price is Rs.325.
Bhai Phota thali (26 and 27 October) lunch will have basmati chaler bhat,macher matha diye moong daal, fish batter fry (1 Pc), basanti pulao, macher pur diye potol er dolma (2pc), chatni and misti (1 pc). The thali price is Rs.325.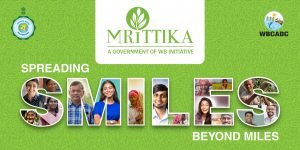 But customers can get add ons – Ilish Paturi (1 pc)- Rs.180,  Black Bengal Mutton Kosha (4pc) – Rs.200,Deshi Murgi Kosha (4PC)- Rs.150, Golda Chingrir Malaikari (2PC)- Rs.150, Bhetki Paturi 91pc)- Rs.110.
Bhai Phonta thali for dinner on 26 and 27 October – Chicken Biryani (1 pc chicken, 1 pc aloo, 1 pc egg), chicken chaap 91pc)- Rs.250 each thali.
Last ordering time for both lunch and dinner was the previous evening at 8 PM. The thalis can be booked at whatsapp numbers – 8240622346/ 9432207131/ 9734399915.
All the vegetables, fish, meat, chicken and spices are organically cultivated in the farms of WBCADC  located throughout the state. The specially trained woman self help group members cook the food at the headquarters of WNCADC in its headquarters at Mrittika Bhawan in Salt Lake.
The thalis are delivered at the doorsteps by the staff of WBCADC in the city of Kolkata.