(The new Indian airline has signed two contracts with AFI KLM E&M through its wholly owned  subsidiary EPCOR, for both component and APU services in order to support their ongoing  operation development.)
BY TTT NEWS NETWORK
MUMBAI, 25 JANUARY 2023 :
 The new Indian air transport start-up, Akasa Air, has enlisted the  support of AFI KLM E&M for component services as well as dedicated APU solutions from its subsidiary  EPCOR. The Group MRO will supply the airline with an adaptive package of flight-hour solutions  including repair services, access to a spare parts pool, provision of a Main Base Kit (MBK) and  dedicated logistical support. The agreement covers an extensive range of components, including the  Line Replaceable Units (LRU) for the engines as well as the APUs fitted on Akasa Air's fleet of Boeing  737 MAX 8s. On the APU side, the services delivered by EPCOR, AFI KLM E&M's center of excellence  for APU maintenance, will cover the repair and maintenance of GTCP131-9B APUs (fitted on the 737  MAX), the provision of replacement units, Health Monitoring/Fleet Management assistance using the  PROGNOS® for APU platform, and engineering-as-a-service.
Meeting the exact needs of Akasa Air –
The AFI KLM E&M Group teams worked closely alongside Akasa Air in the lead-up to the operational  launch phase (with the maiden commercial flight taking place on 7th of August 2022), listening to the  needs and challenges faced by the young airline and adapting their commercial service packages to fit  these requirements. AFI KLM E&M has capitalized upon its expertise in the 737 product and its Airline
MRO profile, pro-actively suggesting ways to reduce costs and develop a competitive, adapted offering  aimed at optimizing the Total Cost of Ownership (TCO) and achieving a high level of operational  reliability.
Moreover, EPCOR has amassed extensive experience and expertise on the Honeywell GTCP131-9B  APU, with over 470 shop visits for 59 customers around the world under its belt.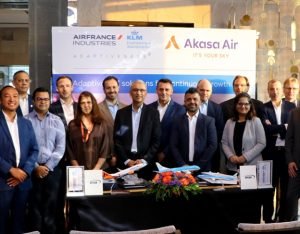 Ton Dortmans, EVP KLM Engineering & Maintenance, stated: "we're proud of the trust placed in us  by Akasa Air, a young and dynamic airline from the Indian sub-continent. We're fully committed to  supporting their ambitions and development by providing the best available solutions in component  support, drawing upon our extensive expertise with the 737/737 MAX product."
Rob van de Graaf, Commercial Director of EPCOR, added: "the breakthrough by EPCOR in the  Indian area means that the market needs alternative solutions based on an airline-MRO mindset. It  showcases our APU know-how in a general sense and our expertise in the GTCP131-9B more  specifically. Our services are designed to keep the airline's APUs in the sky for as long as possible,  combining our expertise and flexibility in adapting our solutions to align perfectly with their operational  needs. It opens the door to a long-term partnership around the APUs of its young and growing 737  fleet."
Commenting on the occasion, Neelu Khatri, Co-Founder and SVP – Head of Operations at Akasa  Air said, "The Indian aviation industry bears immense potential having exponentially grown to become  the third largest domestic aviation market in the world. We are delighted to enable AFI KLM E&M's  group to further expand its leading position into the Indian market through this partnership. We are  India's newest airline, with the greenest and youngest fleet in the country.
Reliable operations and fuel efficiency are the cornerstones of our operations strategy, that will allow  Akasa Air to provide a dependable service offering in India, today and for many years to come", she  added.
About Akasa Air-
Akasa Air is India's newest and most dependable airline, offering warm and efficient customer service, reliable operations, and affordable fares – all in the Akasa Way. Akasa's youthful personality, employee-centric philosophy, tech-led approach, and culture of service will make this commitment a reality for all Indians. The carrier launched its first commercial flight on 07 August 2022 to support the growing demand across India.
With a commitment to being socially responsible, Akasa Air has placed a firm order of 72 Boeing 737 MAX airplanes, powered by CFM fuel efficient, LEAP-1B engines. The 737 MAX family aircraft deliver superior efficiency in reducing fuel use and carbon emissions, fulfilling the airline's promise of being an environmentally friendly company with the youngest and greenest fleet in the Indian skies.
About AFI KLM E&M –
Air France Industries KLM Engineering & Maintenance is a major multi-product MRO (Maintenance,  Repair, Overhaul) provider. With a workforce of over 12,800, AFI KLM E&M offers comprehensive  technical support for airlines, ranging from engineering and line maintenance to engine overhaul, aero  structure and fan thrust reverser support, as well as the management, repair and supply of aircraft  components, structured around a powerful logistics network. AFI KLM E&M supports almost 3,000 aircraft operated by 200 major international and domestic airlines.
About EPCOR  –
EPCOR is a wholly owned subsidiary of Air France Industries KLM Engineering & Maintenance, part of  the Air France-KLM Group, holding EASA, CAAC, CAAV and FAR 145 certification. Within the Group  EPCOR provides MRO support for the APUs and pneumatic systems of a wide range of commercial  aircraft. EPCOR maintains APUs on Boeing 737NG/MAX, 777 and 787, Airbus A220, A320neo/family  (GTCP131-9A), A330neo, A340 and the APS2300 APU for the Embraer 170/190 aircraft. EPCOR is a  licensed and OEM warranty approved Honeywell and Pratt & Whitney Canada (former HSPS) Auxiliary  Power Unit (APU) repair center. Besides the APU capability EPCOR also maintains and overhauls air  cycle machines on 737, 777, 787 and Emb170/190, 787 Cabin Air Compressor (CAC), environmental  control systems, starters, leading-edge flap drive units and many other pneumatic and nitrogen  components installed on large commercial aircraft.