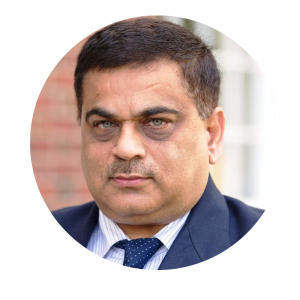 RAVINDER PALL SAINI, IFS
( RETIRED PRINCIPAL CHIEF CONSERVATOR OF FORESTS,WB AND FORMER  FIELD DIRECTOR – BUXA TIGER RESERVE)
The Buxa Tiger Reserve,   is a 761-square-kilometre reserved forest area located in West Bengal, India.
Location
Buxa Tiger Reserve (BTR) lies in Alipurduar Sub Division of Jalpaiguri district of West Bengal. Its Northern boundary runs 65 Km along the international border with Bhutan. The Sinchula hill range lies all along the Northern side of BTR and the Eastern boundary about 35Km touches that of the Assam State. National Highway No.31 C roughly runs along its Southern boundary. It is the Eastern most extension of extreme Bio-diverse North-East India and represents highly endemic Indo-Malayan region flora and fauna. The fragile "Terai Eco-System" also constitutes a part of this Reserve. The Phipsu Wildlife Sanctuary of Bhutan is contiguous to North of BTR. Manas National Park lies on East of BTR. It serves as an important corridor for Asiatic Elephant migration between India – Bhutan and neighbouring State of Assam. To the South-West, the Chilapata Forests form a wild life corridor to the Jaldapara National Park. The Reserve encompasses as many as ten forest types. The Head Quarter is located at Alipurduar. The Forest is divided into two Divisions, i.e. East & West. Buxa Fort is an important landmark for this Reserve. This fort was captured by the British-India in 1865 after the Duars War from Bhutan. Later this fort was used as Detention Camp for the Indian Freedom fighters during the Indian Freedom Movement.
Approach
Nearest Airport: Bagdogra – 195 km away
Nearest Rail Station: Alipurduar Junction / New Alipurduar – 17 km
Nearest Town/ City: Alipurduar – 17 km
By Road: NH 31 is the main highway. One can hire a Jeep from Alipurduar.
Conservation History
Buxa Tiger Reserve created in 1983 as the 15th tiger reserve. In 1986, Buxa Wildlife Sanctuary was constituted over 314.52 km² of the Reserve forests. In the year 1991, 54.47 km² areas were added to Buxa Wildlife Sanctuary. A year later, in 1992, Government of West Bengal declared its intentions to constitute a National Park over 117.10 km² of the Buxa Wildlife Sanctuary. State Government finally declared National Park vide notification No.3403-For/11B-6/95 dt. 05.12.1997.
Forest types
Northern Dry Deciduous
Eastern Bhabar and Terai Sal
East Himalayan Moist Mixed Deciduous Forest
Sub-Himalayan Secondary Wet Mixed Forest
Eastern Sub-Montane Semi-evergreen Forest
Northern Tropical Evergreen Forest
East Himalayan Subtropical Wet Hill Forest
Moist Sal Savannah
Low alluvium
Savannah Woodland
 BTR has a wide range of flora owing to a range of natural parameters like topography, climate, temperature and rainfall. It represents several elements of biodiversity of North-East India and Indo Malayan region, one of the most biodiverse Indian regions. Around 60% of floral endemic species of NE India are encountered in BTR. It possesses around 1,000 floral species including over 100 species of medicinal plants. More than 352 species of trees, 133 species of shrubs, 189 species of herbs, 108 species of climbers, 43 species of grasses, 16 species of sedges, 6 species of canes and 4 species of bamboo have been recorded in Buxa Tiger Reserve (TCP-2013).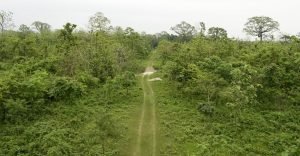 ●   MEDICINAL PLANTS:
Buxa Tiger Reserve is home to plethora of medicinal plants. FRLHT, Bangalore through botanical inventerisation has identified several medicinal plants in Medicinal plants Conservation Areas of BTR. It is a home for about more than 150+ species. Some notable important medicinal plants are Abelmoschus Moschatus (Maskdana), Ageratum Conyzoides (Dochunty), Arisaema Torusosum (cobra plant), Asperagus Racemosus (Satmuli), Alpinia Nigra (Kulanjan), Cinnamomum Bejolghota (Ram Tejpata), Cureulio Orchioides (Talmuli), Curcuma Aromatica (Ban halud), Elephantopus Scaber (Samdulum), Gynocardia Ororate (Gante), Machilus Villosa (Kawla), Phologcanthus Thyrsiformis (Ram Basak), Urea Lobata (Bank Okra)
●     ORCHIDS:
Orchid diversity of BTR is comparable to diversity found in North Eastern India. As many as 144+ species of orchids have been recorded by S S Bist et al. Some of the it important and rare orchid, of BTR are, Agrostophyllum Callosum, Arachnis Cathcarti, Bulbophyllum Bisetum, Coelogyne Cristata, Calanthe Biloba, Dendrobium Devonianum, Cymbidium Gigantenum, Gastrochilus Dasypogon, Kingidium Taenialis, Epigeneium Amphum, Phaius Maculatus, Paphiopedilium Venustum, Saracanthus Insectifolia, Vanda Alpina.
●    THE FAUNA:
The Tiger Reserve has a spectacular range of faunal variety. It harbour over 1,000 faunal species including endemic Indo-Malayan species like Chinese Pangolin, Reticulated Python and some endemic species of North-East Indian zone like clouded leopard, Marble cat, Black Necked Crane.
●    MANMALS:
68 species of mammals are reported in BTR : Important ones are :
Felines : Tiger, Leopard, Clouded Leopard, Marble Cat, Leopard Cat,
Fishing Cat.
Canines : Wild Dog, Jackal, hyena
Primates ; Rhesus Macaque
Rodents : India Giant Squirrel, common Hare, Porcupine
Hoofed animals : Bison, Sambar, Spotted  Deer, barking Deer, Hog deer
Pachyderm : Elephant.
●  REPTILES, AMPHIBIANS AND FISHES
Snakes : King Cobra, Cobra, Reticulated Python, Krait, Vipers etc.
Lizard : Common Monitor Lizard. Garden Lizard, Gecko, Skink etc.
Amphibians : Common Indian Toad, Indian Bull For, Indian Skippeer, Rice Field Frog.
Fishes : Boal,Kalbus, Mrigel, Chital, Sole etc.
●     BIRDS
A total of 279 species were recorded in BTR by BNHS in 2000-2001 (Vibhu Parakash et al) In all 225 species are residents, 22 long distance migrants and 32 local migrants. Highest species richness is found in undisturbed semi evergreen forest and hill forests.
Type wise notable Bird species are :
Aquatic :           Common Pochard, Little Grebe, Ducks, Lesser Whistling
Dduck, Common Teal, Northern Pintail, Moore Hen.
Terrestrial :           Red wattled Lap Wing, Jungle Fowl, Bengal Floricon.
Frugivorous :           Hill Myna, Large Indian Parakeet, Pied Horn Bill
Insectivorous :           Streaked Spider Human, Grey Headed Fly Catcher, Black Napped fly catcher.
Fish Eaters :         Small Blue Kingfisher, Stork Billed Kingfisher, White Breasted Kingfisher
Birds of Prey :           Black Baza, Osprey, Greater spotted eagle, Peregrine, 90Falcon, Shikra.
Nocturnal Birds :           Spotted Scoops Owl, Jungle Owlet, Spotted Owlet.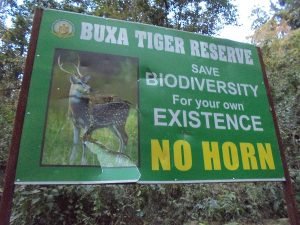 Buxa Tiger Reserve is extremely rich in terms of invertebrates viz insects Spiders and butterflies etc. Insect individuals recorded from BTR belong to 544 recognizable taxonomic units. These species in insects belong to 13 orders, 65 families and 229 genera. Most of the species belong to Indo Malayan and oriental origin. BTR is also home to more than 180 species of eye-catching butterflies (Prof. D. Roy Choudhuri, Calcutta University)
Interestingly there was no record of fish's inhabiting North Bengal forests and streams, though there are sporadic records, available in general. In order to record the Ichthyofauna found in rivers and streams of Buxa Tiger Reserve a survey was carried out by Himalayan Nature and Adventure Foundation where in they recorded 33 species of fishes along with 75 species of ornamental fishes. some of the important category of fishes found in BTR are Barbs and Minnows, Gourami, Glass Fish, Perch, Needle fish, Knife fish, Puffer fish, Snake headed fish, Cat Fish, Pipe fish, Mullet, Eel, Loaches etc.
The Reserve being low density area for Tigers and with viewing difficult due to dense woodlands predominance the census for tigers presently done by genetic analysis, where in the tiger scats (feacal matter) were collected from all over the BTR and their DNA fingerprinting done at world renowned genetic Laboratory at Centre for Cellular and Molecular Biology (CCMB), Hyderabad. Recent census in 2011 and 2012 has revealed presence of at least a 20 tigers (16 male and 4 female). The tigers are distributed all over the tiger reserve.
BTR AS EASTERN DUARS ELEPHANT RESERVE :
 Along with being a Tiger Reserve BTR is also a part of Eastern Dooars Elephant Reserve (EDER). Of the total area of 977.51 sq km of EDER, 693.68 sq km of BTR is included in the reserve, of which 369 sq km is notified as the core area of the elephant reserve. BTR is the largest intact forest patch of the elephant reserve. During 2012 elephant census BTR reported presence of 215+ elephants, which is highest in North Bengal.
 Like its biological diversity BTR is very rich in its Anthropological diversity There are 38 Forest Villages, 4 Fixed Demand Holdings and 49 Fringe Villages in the Buxa landscape. A substantial proportion of the population inside BTR comprises of tribes such as Rava, Garo, Mechia, Modesia (Santhal), Rajbanshi, Nepali, Bhutia etc. The people are mostly farmers or labourers in farms and Tea Gardens. Relatioships of villagers within their own group and which other groups are normally good.
EMPLOYMENT AND LIVELIHOOD :
Forest villagers are totally dependent on the forest for firewood, small timber, cattle grazing and NTFPs, 62 Joint Forest Management Committees (JFMC) have been constituted to involve people in forest protection and in turn share the revenue generated with the people. Forest Department provides employment opportunities to the people in various forestry works as plantation watchers, fire watchers, eco guides, anti depredation helpers, they constitute the chief labour force in various forestry works taken up all through the year. Vocational training like carpet weaving, sewing, preparation of jute and bamboo handicrafts, apiculture, computer education, soft toys making driving, pisciculture etc. are being given to the people to improve their livelihood and in turn reduce dependence on forests.
Various community developmental works like construction of low cost houses, toilets, culverts, community halls, elephant proof trenches, energized fences, electrification, communication, vocational training etc. are being taken up in the forest villages under various developmental schemes of the government. Because of these measures the relationships between forest villagers and forest officials are cordial.
An Eco Park has been established near Poro Forest village for visitors and is exclusively managed by Poro JFMC and Women Self Help groups. Ever since the inception of this park the dependence of Poro forest villagers on Forests has gradually reduced. More than one lakh visitors visit the park every year during picnic season JFMC earns good amount of revenue from visitors. It also helps in reducing tourist pressure on the Tiger Reserve by diverting tourists to Eco Park.
 Owing to its picturesque landscape comprising of misty mountains roaring rivers, blooming orchids and wildlife, BTR is a huge attraction among the tourists. Regulated, low impact tourism is allowed in the buffer zone of the reserve in such a way that integrity of wilderness is protected and livelihood requirements of the locals are met. Some of the important tourism sites are : Poro Ecospot, Rajabhatkhawa, Uttar Panialguri, Buxaduar, Jainty, Shikiajhora, Narathali wet land, Garam, Pukri Pahar, Mahakal. Trek routes (Raimantong to Adma-5km and Jainty to Mahakal 7km) criss crossing the dense forests and rivers can seduce any nature lover. Nature interpretation Centre (NIC) at Rajabhatkhawa and Buxaduar provide glimpses of rich biodiversity and ecological importance and cultural heritage of BTR forests.
Endangered species
Some of the endangered species found in BTR are Indian Tiger, Asian Elephant, Leopard cat, Bengal Florican, Regal Python, Chinese Pangolin, Hispid hare, Hog deer Lesser Adjutant "Leptoptilos javanicus", White-rumped Vulture "Gyps bengalensis", Slender-billed Vulture "Gyps tenuirostris", Chestnut-breasted Partridge "Arborophila mandellii", Rufous necked Hornbill Aceros nipalensis "Ferruginous", Pochard "Aythya nyroca" and Great Hornbill "Buceros bicornis".
Threats to the Reserve
Most rivers enter BTR from Bhutan. They carry huge amount of bed load. They obliterate beds of BTR rivers. Flooding is frequent. Critical habitats are lost.
Over one lakh cattle graze in the Reserve daily. Weeds, unpalatable grasses and shrubs have invaded the over grazed areas.
Hilly, Bhabhar and riverine tracts of core suffer from fire. Generally Non Timber Forest Produce collectors and shepherds put forests on fire.
No frequent poaching cases. Tribal population in tea gardens poach small mammals during Holi festival illicitly as part of ritual hunting.
Bodo militants from Assam occasionally enter core. Timber thieves operate in the area.
Five forest hamlets in hilly tract viz. Adma, Chunabhati, Santrabari, Tobgaon and Tashigaon have some encroachments by way of unauthorised Orange Orchards.
Park activities
Trekking
Buxa (2,600 ft above msl) is a One hour fifteen minutes (5 km) trek through picturesque surroundings from Santrabari, the starting point. The historic Buxa Fort People have sentimental attachment with the fort on accounts of its association with the struggle for freedom The Historical Buxa Fort was coming under the British India after the 2nd Duars War (1865) between the Bhutan and the British, the subsidiary alliance of Princely state Cooch Behar. This was used as a Detention Camp by the British, because of its remoteness during the Indian Freedom Movement. Many freedom fighters were imprisoned here. After independence, it served as a refugee camp for Tibetans and Bangladeshis. A sacred temple – Mahakaleshwar Jyotirlinga – lies just after crossing the border with Bhutan near Jainty. Around 10,000 devotees of Lord Shiva congregate here on "Shiva Chouturdoshi".
 There is a 4 km further trek to Rovers' Point (the land of beautiful birds at 4,500 ft or 1,400 m) or a 14 km trek to Rupang Valley or Rupang Valley bordering Bhutan. From Buxa, one can also take the 13 km trek to Jainty through the dense jungle preferably with an Expert Guide (subjected to get permission from B.T.R.). There is a stalactite cave, popularly known as the Mahakal cave at Jainty. Another entry point Rajabhatkhawa (17 km from Alipurduar) has an orchidarium, and a Nature Interpretation Centre. One can go for a Circular Trekking from Buxaduar via Chunabhati-Adma to Raimatang. This is actually 8 hours tough trek with an expert guide but usually trekkers prefer to make it as 3 days comfortable Trek to understand Nature & the Ethnic Culture of this region. Local tour Operators at Alipurduar provides tent & other materials to the Trekkers.
Park safari
One can have a park safari by car or jeep by taking permission from the Forest Office at Rajabhatkhawa or at Jainty.
Other Places of interest
You can trek to "Pukri Mai", a small sacred pond (Karts Lake) situated inside the park where fishes like Magur and Singi and Turtles are kept. Festivals are held at certain time of the year by both Buddhist and Hindus and local ethnic groups like Dukpas. 'Dukpa: the Word probably comes from Drukpa, the people from the land of Thunder storm. They are the ancient Ethnic group among the other inhabitants of Buxa Tiger Reserve. Dukpas used live in the different Hamlets of Buxa Hills from east to west. The seasonal migratory Dukpas are divided mainly into 30 different sects. They originally were the followers of (Drukpa  Kagyud) Mahayana Buddhism. Some of them are converted into Christianity. A Finnish Church is still exists along with the age old Buddhist Gumba at Chunabhati. A Grave yard with Tomb stone at Sadar Bazar bears the testimony of Britishers.