DEBAJYOTI CHAKRABORTY
KOLKATA, 20 JULY 202
2The forest department has successfully released ten numbers of captively bred critically endangered Oriental White backed vulture species at Rajabhatkhawa Vulture Conservation Zone near Buxa Tiger Reserve in Alipurduar of West Bengal.
All the two year old vultures have been fitted with satellite tags known as Platform Transmitter Terminal (PTT).
" These vultures play a key role in the ecosystem and in the food chain but their numbers have drastically dwindled over the decades.
This is the second time we have released the captively bred vulture species and we will observe and follow them and in future also more species will be released in the wild,"says Parveen Kaswan, Indian Forest Service (IFS) Officer and Deputy Field Director of Buxa Tiger Reserve.
Parveen Kaswan has released a video footage of the grand release of the critically endangered species in his official twitter handle.
"A flight of hope and freedom. In another conservation milestone today 10 critically endangered Oriental White Backed vultures were released.
They are captive bred at Vulture Conservation Breeding Centre & are fitted with Platform Transmitter Terminals for monitoring," Praveen Kaswan tweets.
Earlier in January 2021, two numbers of Oriental white backed vultures and six numbers of Himalayan Griffons were released in the Vulture Conservation Breeding Centre (VCBC) at Rajabhatkhawa. Thesebirds with chips fitted in their necks have adapted to the wild successfully much to the joy of the wildlife enthusiasts and experts.
The Vulture Conservation Breeding Centre (VCBC), Rajabhatkhowa in Buxa Tiger Reserve, a joint project of Wildlife Wing, Forest Directorate, Government of West Bengal and Bombay Natural History Society(BNHS) has been functioning since 2005. In the initial years ,the project was funded by UK based Royal Society for Preservation of Birds and now it has become a part of CSS-Integrated Development of Wildlife Habitat being funded at 60:40 basis by the Ministry of environment forest and climate control (MoEFCC) of central government the government of West Bengal.
There was a time when the vulture population in the country was four million, but due to a medicine used for treating cattles named diclofenac, the vulture population in the country has dwindled since the 1990s and has alarmingly dropped about 99.99 percent in the country. Diclofenac was banned for use in cattles on 2006.
Wildlife experts have advised a ban on the drugs for usage in cattles to save the vulture population in the country which are popularly called the nature doctors for their scavenging abilities and keeping the earth dirt and disease free. The Bombay Natural History Society has urged the centre, seeking a ban on use of aceclofenac, ketoprofen and nimesulide on cattle.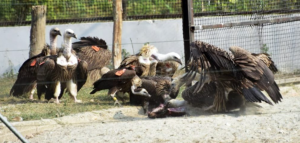 This has proven to be a successful breeding programme where 3 critically endangered species of vultures, viz. white backed, slender billed and long billed vultures have been bred in captivity for release in the wild. This centre also acts as a rescue and rehabilitation centre for wild vultures of species like Himalayan Griffon.
" It's a great day for us and we are hopeful that this magnificent avian species will be able to cope with the natural habitat in the wild too. This is the second release since 2021 and the earlier lot has already adapted to the wildlife,"says Debal Roy, Chief Wildlife Warden of West Bengal.
The Oriental white backed vulture is the most common vulture species of sub Saharan Africa.
World Wildlife Fund-India (WWF-India) has initiated a vulture estimation program across India last year. This is the first year of this program where citizen birders, ornithologists, photographers, and naturalists are invited to participate in the vulture count.
A flight of hope & freedom. In another conservation milestone today 10 critically endangered Oriental White Backed vultures were released. They are captive bred at Vulture Conservation Breeding Centre & are fitted with Platform Transmitter Terminals for monitoring. pic.twitter.com/auQk9FhPWk

— Parveen Kaswan, IFS (@ParveenKaswan) July 18, 2022