BY TTT NEWS SERVICE
PUNE, 1 OCTOBER 2022
Mr. Anurag Raha, General Manager of Crowne Pl;aza Pune City Centre has received the prestigious  CMO Asia Presents Pune's Best General Managers ( Hospitality) Award at a function held at Vivanta, Pune Hinjewadi on 30 September.
Talking to The Travel and Tourism Times, Anurag Raha said, . "being in a leadership position is a humbling experience! Being a people person and a team player myself I dedicate this award to my team at Crowne Plaza Pune City Centre( IHG). We have been making a difference in the business with Innovative customer experience with each stay at our hustling location within the heart of the city of Pune."
" I am glad to have been leading these amazing young and  dynamic professionals. With technology and IHGCleanpromise, we are here to make a difference! It was wonderful to meet and listen to diverse leadership stories with Dr R.L Bhatia Industry Colleagues and Ganesh Natarajan Uma Ganesh," Mr. Anurag Raha added.
About Mr. Anurag Raha:
Mr. Anurag raha brings with him 21 years of management expertise to hospitality, having previously worked at Taj Lake Palace, Udaipur, The Intercontinental (IHG) Grand Laxmi Vilas Palace, Radisson White Sand Resorts, Goa, The Kenilworth Hotel, Alda Diwa Hyatt Goa, ride Hotel and Holiday Inn.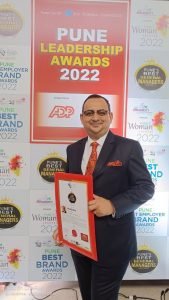 He has a proven track record of running successful operations that nurture and grow business while reducing costs and improving profits. A firm believer in time management, innovation from team and technology in the business. His strong commitment and zeal for hotel management , will soar to new heights.
" Mr Raha is a creative , accomplished, and tenacious individual who is passionate about delivering excellent customer service and building strong connections with customers in order to generate repeat business," He has a track record of successfully managing operations that nurture and expand the company while lowering expenses and increasing revenue. He possesses the ideal mix of experience and passion to maintain hotel's with excellent name and financial success.