BY TTT NEWS SERVICE
BURNPUR, 13 AUGUST
Brijendra Pratap Singh, Director in- charge of Iisco Steel Plant and Durgapur Steel Plant of Sail has inaugurated the inaugural session and grand presentation of " My Country, My Pride"- The Indian Exhibition put up by the students of Burnpur Riverside School  on the occasion of 75 th year of independence and as part of the Azadi Ka Amrit Mahotsav activities.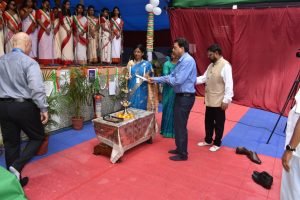 In his inaugural address, Brijendra Pratap Singh complimented the school for the efforts taken up by it to revive the glorious past of the country to the young minds of today so that they grow up in lines as envisaged by the leaders and great men of the past.
The several stalls of the exhibition depicted the myriad cultures of India showcasing the variety of languages, cultures, lifestyles, cuisines, climatic conditions, scenic beauty, architecture and culture and traditions.
Some of the stalls featured the great discoveries and inventions , art and craft, technological genius, media, film, advertising, medicine, fashion, textiles, agriculture and self-reliance and spirituality of the nation.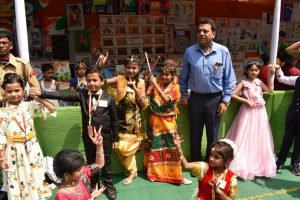 However, the cynosure of the inaugural session remained the conduct of the Youth Parliament, an effort put up by the students in replicating a busy session of the Lower House of the Indian Parliament. In the words of the Director and Principal of the School , Sushil Kumar Sinha, the exhibition is to bring before the new generation of the 21 st century , the courage and sacrifice of the great men of the soil for whose sake we got the free land to live and breathe free.
Sushil Kumar Sinha, Director and Principal of Burnpur Riverside School was also present on the occasion. Gautam Bhatia, CGM ( P&A), M.E.Shamshi, CGM (BE) , P.Subba Rao ( CGM) of ISP , K.S.Mago, Secretary and Subodh Singh, headmaster of BRS were also present. Burnpur Riverside Schools  is affiliated to the CBSE  Board and is one of the biggest  schools in South Bengal.