(The emphasis of  central government on ethanol aligns with objectives of attaining energy self-sufficiency, doubling farmers' income, transitioning them to Urjadata while continuing to support them as Annadata and positively impacting the environment : says  Gadkari)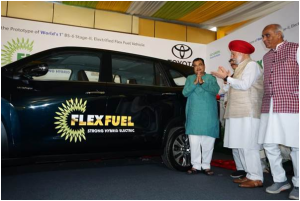 TTT NEWS NETWORK
NEW DELHI,  29 AUGUST 2023:
Union Minister for Road Transport and Highways, Mr. Nitin Gadkari launched the world's first prototype of the BS 6 Stage II 'Electrified Flex Fuel Vehicle', developed by Toyota Kirloskar Motor in the presence of  Union Minister , Mr. Hardeep Singh Puri , Union Minster , Mr. Mahendra Nath Pandey , MD & CEO of Toyota, Mr. Masakazu Yoshimura , MD and CEO of Kirloskar Systems Limited Geetanjali Kirloskar , Ambassador, Diplomats from Japan Embassy, higher officials and advisors in New Delhi today.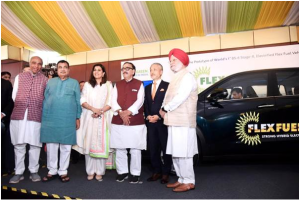 Speaking on the occasion, Mr. Gadkari said Ethanol being an indigenous, eco-friendly, and renewable fuel holds promising prospects for India.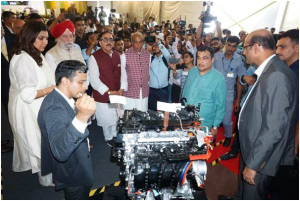 He said the emphasis of the Modi Government on ethanol aligns with objectives of attaining energy self-sufficiency, doubling farmers' income, transitioning them to Urjadata while continuing to support them as Annadata, and positively impacting the environment. He said the day ethanol economy becomes of 2 lakh crores  agricultural growth rate will reach 20% from the current 12%.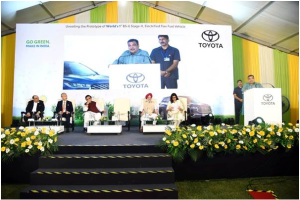 Talking about innovations in biofuels, Mr. Gadkari spoke of refinery in Numaligarh in Asssam of Indian Oil Corporation where bamboo is being used for manufacturing bio ethanol.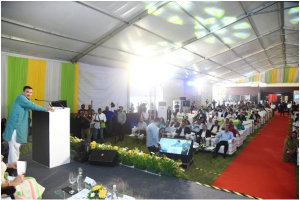 Mr. Gadkari said this innovative vehicle is based on the Innova Hycross and is engineered to adhere to India's stricter emission standards, marking it as the first-ever BS 6 (Stage II) Electrified Flex Fuel Vehicle prototype globally. He said the forthcoming stages for this prototype encompass meticulous refinement, homologation, and certification processes.