( The new Integrated Terminal Building of Veer Savarkar International Airport, Port Blair was inaugurated by Hon'ble Prime Minister on 18th July, 2023)
TTT NEWS NETWORK
NEW DELHI, 2 SEPTEMBER 2023:
Flight operations from the New Integrated Terminal Building (NITB) of Veer Savarkar International Airport, Port Blair started from late last month  with the arrival of the first flight from Chennai.
Port Blair Airport's NITB was inaugurated on 18th July, 2023 by Hon'ble Prime Minister,  Narendra Modi via video conferencing in the presence of Mr. Jyotiraditya M. Scindia, Union Minister of Civil Aviation & Steel; General (Dr.) V.K. Singh ((Retd.), Union Minister of State for Road, Transport and Highways and Civil A viation and other dignitaries.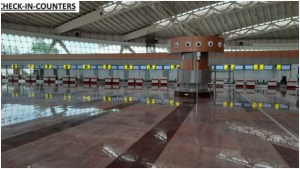 With a total built up area of 40,837 sqm., NITB is capable to serve 1200 passengers during the busiest operational hour also known as peak hour and about 50 lakh passengers annually. The airport building is equipped with 28 check-in counters, 12 immigration counters, three passenger boarding bridges and three conveyor belts. Airport's apron is suitable for parking 10 aircraft at a time. In order to reduce congestion, new routes are being set up for the vehicles to enter and exit the NITB of Port Blair Airport. The entry gate for Airport is near ITF ground and exit gate is near Lemon Tree hotel. Vehicles approaching the New Terminal entry gate from the Hayat Singh side are advised to follow the new access procedure.
Instead of taking a right turn directly towards the entry gate, all vehicles must now proceed towards the RBV Crossing and take a mandatory U-turn to reach the Airport entry gate. To ensure efficient movement of passengers, Lane 1 and Lane 2 will be exclusively dedicated to departures, while Lane 03 will be designated for arrivals. All commercial vehicles must be parked in the designated parking areas. Commercial vehicles are strictly prohibited from halting on Lane 03 for more than four to five minutes. These measures will contribute to smoother passenger movement and will reduce traffic bottlenecks. Inspired from nature, the architectural design of the airport terminal resembles a shell shaped structure depicting sea and islands.
The building is also equipped with modern sustainability features along with various Accessibility features for Persons with Reduced Mobility etc. Operationalization of the new terminal building and increased aerial connectivity to the islands will boost the expanding tourism industry while creating new employment opportunities for the local community.