BY ROBIN GHOSH
( FORMER CHIEF ECONOMIST, BENGAL CHAMBER OF COMMERCE AND INDUSTRY)
KOLKATA, 28 AUGUST 2023:
Social media is playing a major role in shaping the contours of business, economy and society at large.
Not much has been discussed about welfare economics on social media.
But, the issue is important – because it concerns the welfare of people and society.
Welfare economics is a special arm of art and science of economics.
Briefly speaking, welfare economics is the study of how the allocation of resources and goods affects social welfare.
Welfare economists seek to provide tools to guide public policy to achieve beneficial, social and economic outcomes for all of society.
Research has been conducted on the impact of newspapers and television, – not much work seems to be available on impact of social media on economic, political and social outcomes.
The demand people have for news, information and entertainment – over the ages have remained the same – but – technology and newer technology have given birth to new media products and new business models.
If you look at newspapers and tv – historically – you will find these two media products have grown in stages.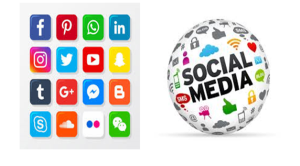 It evolved gradually, created its own channel, got self regulated and driven by a passion to build trust, engagement over a long period of time.
With regard to social media, the case is different. Here, there is no gatekeeper. It is like adda. It is like gossip.
Here is no effort on trust building. No research on source of information.
Here, in the platform of social media, the goal is to generate clicks and short term engagement.
Welfare economics of social media is an emerging area of study. Trends backed by empirical data are still few.
But important issues have been identified and researches are being done to arrive at the mechanics of measuring the welfare impact of social media.
The important issues which demand clarity and elaborations are:
1. You want people to be more aware about what is happening in the world .
2. Now would you like low quality of news delivered to a large number of people – or high quality of news delivered to fewer people.
3. How can you use social media to resolve this riddle by measuring the welfare benefits of social media vis a vis television.
Prof. Mathew Gentzkow of Stanford University says, "Media impacts economies, society and democracy itself – people value social media but it also makes them less happy".