BY DEBAJYOTI CHAKRABORTY
BENGALURU, 6 OCTOBER 2022
After the massive success of caravans introduced by the Kerala Tourism Development Corporation for tourism in the Gods Own Country earlier this year, now the Karnataka Tourism Department has also planned to introduce caravans very soon.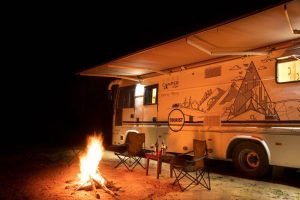 On Wednesday, the chief minister of Karnataka, Mr.  Basavaraj Bommai inaugurated the first specially designed caravans. The caravans will be run in a public private partnership (PPP) mode.
Sources said that two types of caravans will be available for the tourists – a bus type which will have two beds, kitchen, toilet, table, chairs, toasters, TV sets, microwave ovens,  CCTV cameras etc. A family of five can ride this type of caravan.
While the other one is a smaller motor car type and will have a kitchen, small bedroom,toilet. A family of three people can travel by this caravan. It will also have solar power systems so that mobile phones etc can be charged.

A private company which has been entrusted by the Karnataka tourism department has designed the caravans.
The dates of the launching of these caravans has not been announced yet. A start up company , Campervan Camps and Holidays India has launched these caravans, LuxeCamper.
A separate app has to be downloaded to book these caravans. The app will be launched soon . For two adults the rates are between Rs.25.000 to Rs.30,000 per day.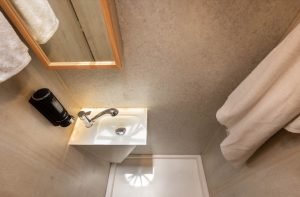 Karnataka Tourism department sources that these caravans will be used for eco tourism, adventure tourism, wildlife and forest tours, and renowned pilgrimage places  throughout the state.
LuxeCamper has collaborations with highway restaurants where the travellers could get their meals sorted. The visitors can also choose their meals at these campsites.
The tourists can camp around in the LuxeCamper at exotic locations in Karnataka like Hampi, Bandipur, Bheemeshwari, Kabini, Sakleshpur, Kudremukh,Kdagu, Aanejari, Sadashivgad, Gokarna, Badami and Sakrebailu.
Caravan tourism is very much popular in countries like the USA and United Arab Emirates (UAE). In recent times it has also become popular after its launch in Kerala. Kerala, Goa  and Maharashtra in fact are coming up with policies to further boost this tourism sector.
Kerala Tourism Development Corporation has planned to set up about 100 caravan parks throughout the state at tourism destinations where tourists can relax at a minimum cost using all the facilities.
Many foreign tourists who would like to visit the three states of Goa, Kerala and Karnataka used to seek  caravans due to lack of 'good accomodations' in several tourist places and once the Karnataka caravan tourism kicks off it will give a big boost to the travel agencies in all these three states, said experts.
There's even an outdoor barbeque connection in the caravans. In terms of safety, the camper van has seatbelts for all passengers, a speed governor, fire extinguishers, 360 degree cameras, a GPS tracker and
first aid kits etc. There have been several Hollywood and bollywood movies on caravans.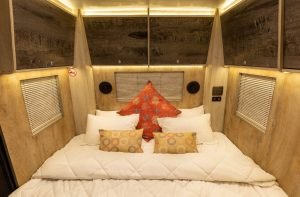 POLICY FOR DEVELOPMENT AND PROMOTION OF CARAVAN AND CARAVAN CAMPING PARKS:
The concept of Caravan tourism has gained immense popularity across the globe owing to the freedom and flexibility it provides, while holidaying vis-a-vis itineraries and accommodation. This would include
vehicles viz. Recreational Vehicle (RV), Campervans, Motor Homes etc. Caravans are a unique tourism product, which promotes family oriented tours even in circuits / destinations, which are not having adequate hotel accommodation. The specially built vehicles being used for the purpose of travel, leisure and accommodation would be termed as 'Caravan'. One of the essential pre-requisites for Caravan tourism is the presence of sufficient Caravan Parks in the identified circuits. A Caravan Park is a place where Caravans can stay overnight in allocated spaces providing basic or advanced amenities and facilities. 2. Considering the immense land area and the multitude of landscapes in India, Caravans and Caravan Parks are sure to add an exciting new facet to tourism in Incredible India. The initial demand in this niche segment is expected to come from domestic tourists and then from the inbound tourists. 3. There is at present a growing demand for eco, adventure, wildlife and pilgrimage tourism. This involves visiting and staying in remote areas, forests, deserts and riversides. There is already a shortage of accommodation at tourist destinations, especially in remote areas and in certain cases at places where a
permanent construction may neither be permissible nor feasible. In such a scenario, Caravan Tourism can effectively meet the growing demand, while ensuring adherence to quality, standards and safety norms. Caravan Tourism would attract a wide range of market segments including young people, families, senior citizens and international tourists. The Caravan tourism policy is aimed to promote and
facilitate and incentivise development of i. Caravan Parks in the public sector, private sector and PPP mode ii. Caravans in the public sector, private sector and PPP mode.