TTT NEWS SERVICE
KOLKATA, 2 SEPTEMBER 2022
It was a pleasant surprise for Sharna Punjabi at Netaji Subhas Chandra Bose International Airport (NSCBI) in Kolkata today, when the staff of Indigo Airlines put a packet in front of her at the counter and asked her to cut the cake.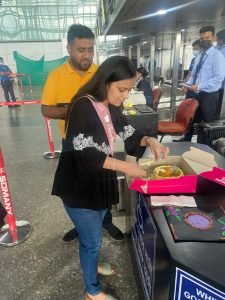 The family of Anil Punjabi, Director of Ar-Es Travels in Park Street and also the Chairman ( East) of Travel Agents Federation of India (TAFI) was going to Mumbai to celebrate the Ganesh Chaturthi festival.
"When we arrived inside the airport  to our utter surprise we found that the staff had brought a cake and asked my daughter to cut it. They have been waiting for our arrival. Even all the other staff at the Indigo joined us in the birthday celebration. Today is the birthday of my daughter Sharna," said Anil Punjabi.
" It was so nice of them and this is what makes Indigo different from others  and  also a friendly carrier. I will remember this  for the rest of my life,"said Sharna Punjabi.
She along with her family went to Mumbai today in the 6E 5206 flight. Indigo Airlines turned 16 years old recently and the officials have visited the offices of several travel agents in the city and distributed cakes.