BY TTT NEWS SERVICE
KOLKATA, 5 SEPTEMBER 2022
Druk Air has resumed International flight services from Lokpriya Gopinath Bordoloi International Airport (LGBIA) in Guwahati of Assam from Saturday.
Druk Air is the only international carrier that operates direct flight services from Guwahati (GAU) to Paro (PHB) in  Bhutan and Singapore (SIN).
International flight services have been stopped since the outbreak of the covid -19 pandemic in the country and order from the government of India.
The first flight to Singapore took off on Saturday and on Sunday the first flight to Bhutan took off.
At present there will be once in  week flight services from Guwahati to Singapore. The outbound flight will depart on Saturday and the inbound will arrive on Sunday.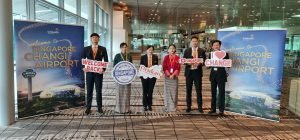 The return flight reaches Guwahati at 14.30 IST and leaves for Paro Airport in Bhutan at 15.20 IST.
Druk Air is the national carrier of Bhutan. Druk Air also operates flights between New Delhi and Guwahati with Airbus A319.
PLANS FOR FUTURE CONNECTIVITY EXPANSION :
Sources said that ministry of civil aviation is also working with various operators under its LOOK EAST POLICY  for commencing direct flight services from Guwahati to Yangon ( Myanmar), Kathmandu (Nepal),Hanoi ( Vietnam), Bangkok ( Thailand) and Kuala Lumpur ( Malaysia).
An Udan flight which used to operate between Guwahati and Dhaka in Bangladesh has been cancelled in 2019. The state government is also working hard to increase international flight services to Guwahati and has recently launched its tourism policy.
In the first eight months of this year, there has been huge growth  in both domestic and international air passenger sectors in the country. A new airlines operator has also launched after many years – Akasa Air adding  further boost to the domestic aviation sector.
A glimpse of our first flight to Singapore via Guwahati. We were welcomed with the traditional airport water salute @ #Guwahati 👋🛬

Here's to many more 🇧🇹 pic.twitter.com/NpurGKLdxS

— Drukair, Royal Bhutan Airlines (@Drukair) September 4, 2022