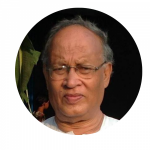 BY ROBIN GHOSH
( FORMER CHIEF ECONOMIST, BENGAL CHAMBER OF COMMERCE AND INDUSTRY)
KOLKATA, 5 SEPTEMBER 2022
When people know that you are a professional economist you are bound to face this question: is it safe to invest in shares or should I redeem and put it in gold or real estate?
If you look at the stock market you will not find it to be very jubilant. Affirmative. Attractive. New age stock has been a disaster. Last year, shares of new high tech companies were floated with a lot of zingo bingo but where are they?
The stocks of many such companies are now like a bazaar envelope which would be thrown into a dustbin for good.
They are close to what we call a ponzi scheme duping people and destroying their hard earned wealth. So, should we avoid investing in new age stock? Not totally. You have to look at the stock very carefully. Are these stocks earning profit at least at the product level?
Do they have a realistic business model ?Are they a part of a racketeer group passing the hat among themselves and alluring people to invest.
So, Sir, where do I invest ? If you are looking for an answer from an economist, the answer is straight: invest in a company which has " dominance " in the market.
Market dominance means that the company has control and can influence the market.
The other question that is lofted is this: there is a global recession. How do we pick up recession proof stocks?
First of all, you have to understand that inflation and recession are like passing clouds.
If you scan through the last three decades, you will notice that the Indian economy more often has passed through expansion mode than recessionary phase.
Inflation has also enveloped the Indian economy occasionally – a couple of years at the beginning of 70s, a couple of years at the end of 70s.
The recent inflationary spell is due to the Russia and Ukraine war. But this will pass.
Therefore, if you are planning to invest in the stock market you should not bother with macro parameters like RBI policy, recession , inflation. Most of the time it is futile, and an inefficient way to judge parameters for investment.
Another stock question that I face occasionally is : money inflows from FII is becoming less and less. What will happen to the stock market?
No, my dear friend, the stock market will never collapse !Why ? Because FII inflows are no longer major drivers of the market. It is the Indian Household savings. It is indeed a staggering flow.
Our GDP is roughly $ 3 trillion. Our savings is 15% of the GDP which is roughly $ 450 billion. Add gold stock and real estate it is nearly $ 600 to 700 billion. Out of which $30 to 40 billion walks into the stock market.
The Indian stock market is not on a rickety road and rather it is on a strong highway. Given this perspective, where do you invest?
Answer is – .
Invest in a company by evaluating through a score card and attraction index based on following criteria such as whether it is a clean company, good capital allocation and dominance in the market.
Your score card decides whether you will invest or not. If the score card reflects a low score , you exit, if it displays a high score , you enter.