BY TTT NEWS SERVICE
KOLKATA, 17 AUGUST 2022
As covid -19 cases are constantly rising in various Indian states and cities , the Indian aviation sector regular, Director General of Civil Aviation (DGCA) has asked all the airline operators to strictly follow the covid -19 protocols.
DGCA has issued guidelines to follow the covid -19 safety protocols to the airline operators. It has asked the operators to take strict actions against the passengers  who are not following the safety protocols.
The DGCA has strictly  advised that during journeys the passengers have to wear the face masks inside the aircrafts.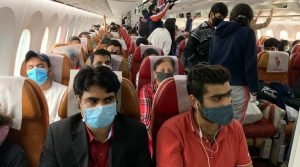 Those passengers who do not follow the mandatory   face mask wearing protocols, then  he/ she should be treated as 'unruly', the DGCA guideline has stated.
Even the aviation sector regulator has advised to remove them from boarding the aircraft if they are found not wearing the masks and flouting the covid -19 protocols.
It has also advised the Central Industrial Security Force (CISF), jawans, who are on security duty at various airports to ensure that the passengers  are strictly following its advisory and enforce them in the airports.
Appropriate hygienic measures should also be taken like keeping santisers at several key points inside the airports.
Recently, the Delhi High Court has ordered to enforce strict discipline and stated that the pandemic is not over yet.
It should be noted that the himalayan country of Nepal has barred Indian's from entering their country after recently four Indians have been  detected covid -1 9 positive. All four of them have returned back to India.
In the past twenty four hours India has reported 9062 fresh covid -19 cases and 36 deaths.  National capital of Delhi has reported 1652 new cases and 8 deaths.