BY DEBAJYOTI CHAKRABORTY
KOLKATA, 19 AUGUST 2022
It's big breaking news not only for the passengers, travel agents but also to the West Bengal Government as Thai Airways will resume flight services from Kolkata from 1 January next year.
Before the international flights were stopped by the Indian Government in 2020 due to the outbreak of the covid -19 pandemic, there were regular flights from Bangkok to Kolkata of Thai Airways, but since the international flights restarted , Thai Airways has not resumed its services from Kolkata.
Through its subsidiary, Thai Airways has started operations from Kolkata to Bangkok already.
Talking to The Travel and Tourism Times, Anil Punjabi, Chairman ( East) of the Travel Agents Federation of India (TAFI) said that this is big breaking news for the revival of the aviation sector and proves that business is fast  coming back to normalcy.
" Returning back to Thai Airways-  an airline of that stature is a big boost for the travel and tourism industry and now we can boost other foreign airline operators to come to Kolkata. Not only Thailand but
the Thai Airways will help in connectivity to Hong Kong, Australia, Singapore, New Zealand also. Which will help travel agents to sell those sectors and even passengers will benefit from direct connectivity from the eastern India," Anil Punjabi added.
Both TAFI and TAAI  eastern region leadership had earlier urged Thai Airways and the Royal Thai Consulate General in Kolkata to resume flight operations from Kolkata in recent meetings.
The West Bengal government is also keen to bring in more international flights to Kolkata. Thai Airways have resumed flight operations from other cities already this year , but Kolkata operations have not resumed.
Incidentally, the first aircraft of Thai  Airways in India,   had operated from Kolkata to Bangkok about sixty years ago. Significantly, about 35 percent of tourists to Thailand are from Eastern India.
In another major development Batik Air has already announced flight services between Kuala Lumpur and  Kolkata.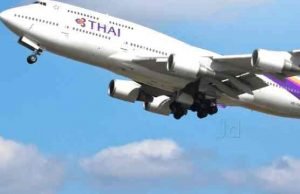 Batik Air's flight from KLIA to Kolkata, OD281, will depart KLIA around 9:55 pm and arrive at 11:20 pm. The first flight will depart on September 30, 2022. Flight OD282 will leave KLIA at 12:10 AM and return to KLIA by 6:45 AM. There are five weekly flights from Kolkata: one every Monday, Wednesday, Thursday, Friday, and Sunday.