By DEBAJYOTI CHAKRABORTY
JODHPUR ( RAJASTHAN), 5 AUGUST 2022
Looking to take a break from the urban clutter and freely roam into the rural idyllic amidst the chirping of the birds and virtual rangoli in the flower, fruit  and vegetable gardens, then  MharoKhet is the perfect place. It is fast becoming a hotspot for farm tourism in the state of Rajasthan.

A forty-acre experiential farm, located  in the desert area of   Manai in Jodhpur, MharoKhet is home to more than 100 varieties of natural and organic crops and provides soothing experiences in the lap of nature.
The Farm Tour and The Culinary Trail, which have been personally created by the founders, are an exciting way to explore all that the farm has to offer: from growing and harvesting produce, to cooking and dining. MharoKhet organizes immersive walking tours, and offers pre-plated, multi-course, plant-forward culinary dining.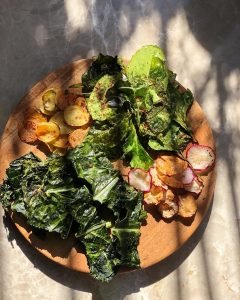 "MharoKhet is a majority-women, community-inclusive, responsible farming enterprise that showcases the beauty of farming and sustainable living. Visitors can find almost every exotic crop, from Brussel sprouts, moringa, strawberries, chamomile to oyster mushrooms and figs. The farm is open for guests from October to March, which is the peak season for exotic produce. One can pre-book private or group experiences and engage in a variety of farm-based activities," says Rajnush Agarwal, a biomolecular scientist of Oxford University and Founder of Mharokhet.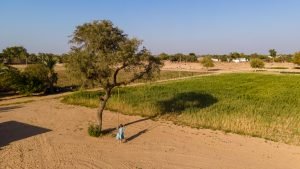 The various experiences offered by MharoKhet include–
Farm Tours: Thoroughly entertaining and educational, farm tours provide guests with exposure to sustainable farming, traditional methods of pest control and fertigation, the benefits and challenges of chemical-free agriculture, and best practices for growing native, exotic and indigenous produce. Additionally, guests can harvest some fruits or vegetables during the course of the tour.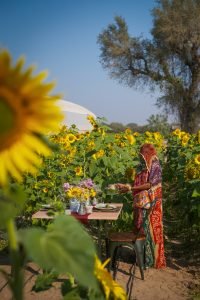 Culinary trail: The culinary trail is a dining experience that consists of a seven-course, pre-plated, plant-forward meal, which is an amalgam of art, freshness and flavour; the open-to-sky dining has tables perched under the canopy of trees in a two-decade old guava orchard. The visitors can expect the super local, seasonal approach taken to the next level with the produce harvested fresh from the farm.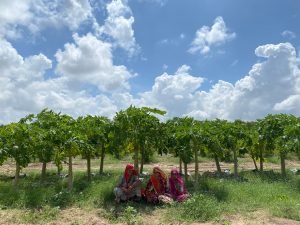 Flagship Experience: The best of both worlds: the flagship experience at MharoKhet combines the distinct experiences of the farm tour followed by a multi-course culinary experience. Guests also have time to explore and relax at the farm, be one with nature, and soak in the surroundings. For example relaxing under the straw canopies on charpoys and observing cloud formations, fly kites etc.
Private Dining: Crafted specifically for those looking to celebrate a special occasion or wanting an exclusive, intimate setup, private dining experiences are arranged at select locations on the farm, away from where other guests are. Depending on the season one can choose to spend their time either in the chamomile fields, amongst the sunflowers, or under a blossoming Rohida tree.
The core aim of MharoKhet is to promote responsible farming and sustainable practices. MharoKhet avoids the use of plastics as much as possible, and engages in regenerative practices like trickle drip irrigation and rainwater harvesting. The farm also actively focuses on women's empowerment and community engagement. In fact, the field team at MharoKhet primarily consists of women who reside in villages within a five kilometer radius.
MharoKhet is owned and operated by an Oxford educated scientist and businessman, Rajnush Agarwal, and his Columbia trained psychologist wife Vedika. MharoKhet's beginnings date back to 2013, when Rajnush started missing the variety of fresh produce he used to get during his travels and overseas visits. He began experimenting with farming at the family-owned farm but it was only during the Covid-19 pandemic that he had the time to see the commercial promise of the farm.

Initially MharoKhet started as a direct-to-consumer service, delivering fresh produce (specializing in exotics) across Jodhpur that consumers could receive within four hours of harvest. The idea was not to become an aggregator but to get the fresh produce out to people in the quickest time. Amongst customers, there was a growing realization that the produce offered by MharoKhet was superior in quality. There was a burgeoning demand in the local community for produce. This stoked local interest in visiting the farm, especially among city dwellers who wanted to experience rural life and also see how such exotic crops are cultivated in an otherwise barren region of Western Rajasthan. This spurred the founders to start immersive experiences for guests which included farm tours and culinary experiences that were farm-to-table in the truest sense.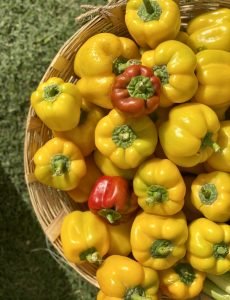 Talking to The Travel and Tourism Times, Rajnush Agarwal said that the produce includes a variety of a hundred crops- —indigenous, native and exotic, ranging from Brussels sprouts to moringa, strawberry to chamomile, oyster mushroom to fig, and many more. But above all, MharoKhet engages with the local community and is a responsible-farming enterprise managed and enriched by women.
"MharoKhet's aim is to share with its guests how different fruits and vegetables are grown, and how fresh produce can be innovatively presented into delicious and nutritious plates. MharoKhet seeks to educate, inform and inspire guests and not merely showcase some ecological credentials. From immersive walking tours to pre-plated, multi-course, plant-forward dining, the team has devotedly curated farm experiences that are beyond the everyday experiences that visitors will relish,"added Rajnush Agarwal.
Back to Nature
While curating the experiences, the MharoKhet team has been mindful of:
Responsible Farming & Sustainability:
·     The farm uses trickle-drip irrigation across the whole area to help conserve water, and follows rainwater harvesting to keep groundwater levels charged
·     Use of plastic is kept to a minimum, with the produce delivered in paper bags and cane baskets
·     Even the decor is made up of dried produce from the farm, while the crockery is partially made with local stones by the help of the local artisans from the city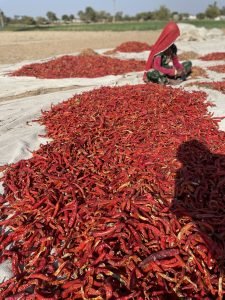 Women's Empowerment & Community Involvement:
·     The field team at MharoKhet consists primarily of women, who enjoy flexible working hours so that they can come in late and go back home during lunch, to cater to their families
·     All the women hail from villages within a 5km radius of the farm. They double up as MharoKhet's field team and servers during the experiences, giving them a chance to acquire new skills. Meanwhile, the employment in the fields has enabled women to contribute to their family's income, making them more aware and independent.
From the Farm to the Table:
·     Visitors can dine under a canopy of guava trees to the sounds of trilling and chirping birds and mooing cattle, a rural idyllic
·     More than 90% of what one eats at MharoKhet comes fresh from the farm, nurtured andnourished by the soil and the sun
·     The meal itself engages all the senses: visual, smell, sound and taste–consisting of a seven-course, pre-plated menu. The cuisine is plant-forward, each course championed by a different vegetable
Incidentally, Jodhpur boosts two of the most famous central arid zone research institutes in the country – CSIR-  Central Arid Zone Research Institute (CAZRI) and Arid Forest Research Institute (AFRI).
FUTURE OF FARM TOURISM-
The farm or agricultural tourism market globally was valued at $42.46 billion in 2019 and is expected to reach $62.98 billion by 2027, registering a Compound Annual Growth Rate (CAGR) of 13.4% between 2020 and 2027.
In India the annual growth rate of farm tourism has been about 20 percent.