BY TTT NEWS NETWORK
HYDERABAD, 6 DECEMBER
The country's first gold ATM has been inaugurated at the city of pearls, Hyderabad.
The social media has been abuzz  in recent times  first  with the inauguration of idli ATMs in Chennai and now with  the Gold ATM in Hyderabad .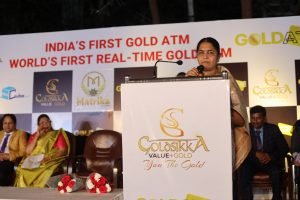 "We proudly announce that we have successfully launched Gold ATM and, through this achievement, we unleash the unstoppable journey to make Bharat Sone ki Chidiya phir se, and contribute to the mission of Bangaru Telangana, tweets Goldsikka Limited, a private firm.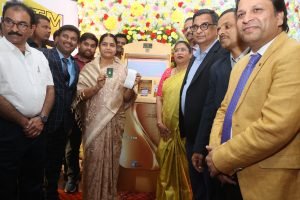 World's first real-time gold ATM, Goldsikka ATM, launched in Hyderabad in the Indian state of Telangana. The ATM has a capacity of storing 5kg of gold. There are 8 available options for the quantity of gold starting from 0.5 grams to 100 grams.
People can insert their debit or credit cards into the Goldsikka to buy gold coins and the gold prices are updated live, according to Goldsikka Pvt Ltd.
The ATM will remain open 24×7 and customers need to either swipe their ATM or Credit cards to get the gold coins of their choices.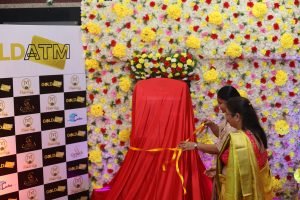 The company is planning to set up 3000 Gold ATMs across the country by adding 200 to 300 ATMS per month. Out of which almost half of these ATMs will be located in rural areas so that common man can access pure gold at proper price.
India is the second largest consumer of gold in the world after China. India is  also the world's largest importer of gold and the annual import is over 1000 tonnes. The   yellow shining metal is  the most costliest in the world and that  in a a country like India  where gold has been regarded as a 'Stree Dhan' or social security since ages.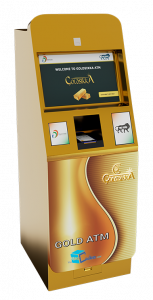 Goldsikka has collaborated with OpenCube Technologies Pvt Ltd, a Hyderabad-based startup company that provides software solutions for diverse financial and banking requirements to bring the first-of-its-kind Gold ATM to India. The goal of Goldsikka is to provide gold at the lowest possible price. The gold rates are constantly changing and getting a hang of it gets hard. With Gold Sikka Gold ATMs, we are making Gold accessible to a highly varied audience and anybody can withdraw Gold from any ATM.
The World's first Real – Time Gold ATM has been  installed and situated at Goldsikka's head office i.e., Ashoka Raghupathi Chambers, adjacent  to Prakash Nagar Metro Station in  Begumpet of  Hyderabad.
The update in the price of gold is based on the live prices. Earlier this month the gold price hit an all-time high of nearly 54,630 per 10 gms but the demand for gold will only grow.