BY DEBASHREE CHAKRABORTY
KOLKATA, 29 JANUARY 2023
The West Bengal Forest department  has released an awareness video on bird trafficking and illegal bird capturing on the republic day.
Talking to The Travel and Tourism Times, Kalyan Das, Additional Chief Conservator of Forests (ACCF) , Durgapur has informed that Burdwan- Durgapur Divisions under South – East Circle have been able to seize and rescue a whopping three thousand and six hundred number of sceduled birds  on differect periods since 2019  to August 2021.
 Twenty four persons have been arrested, who are mostly inter state bird traffickers, two buses and a car have been also seized. The illegal traders closes the beaks of the birds so that they can not chirp, and many birds dies during this hectic and illegal transporations.
" These birds have been rescued while being trsnported illegally through road or by railways from different parts of the country to West Bengal. These avian species have been released at different forest areas  to have their nsatural habitat. The video is a  release operations at Deul Conservation Reserve," added Mr. Kalyan Das.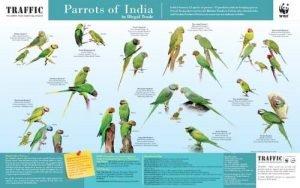 The forest department is trying to create an awareness amongst the common people  regarding illegal  capture and traficcking of the winged species with this documentary clip through social media.
The documentary video starts with the mesmerizing sound of the chirping of birds. According to the Wildlife Protection Act of 1972, capturing or killing of any wild animal is a punishable offence.
Parakeets of different species, hilly moyna, bulbuli are mostly captured and illegally traded.  These birds are crammed into suffocating cages. Not only adult birds but even chics are also not spared by the illegal bird catchers.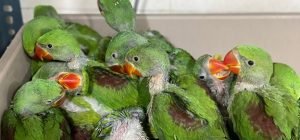 Hill mynas are protected under Schedule I, while parakeets and munias fall under Schedule IV of the WPA. Eight of the 12 native species of parrots found in India regularly turn up in the illegal pet trade. These are:
Alexandrine,
Rose-ringed,
Plum-headed,
Red-breasted,
Malabar,
Himalayan Parakeets,
Finsch's Parakeets,
and Vernal Hanging-parrot.
Birds in India are increasingly becoming victims of illegal trade – captured, caged, and shackled for life. Despite the ban on trapping and trade of Indian wild birds in 1990-91, the illegal trade of birds continues to flourish.
 Despite a blanket ban of capturing and selling 1200 varieties of indigenous birds of India since 1991-92, about 300 varities are sold openly in the market at different parts of the countrt.
 Awareness campaigns should be started at schools and colleges and despite togh laws about prevention of cruelty against animals, the market size of the illegal bird traggicking is increasing day by day in the country.