BY TTT NEWS SERVICE
KOLKATA, 16 NOVEMBER 2022
In a bid to boost the inland water development and  tourism in the country, the central government has planned to start the world's longest river cruise from January 2023, announced Sarbananda Sonowal, union minister of ports, shipping and waterways.
The 50 days river cruise will sail from Varanasi In Uttar Pradesh  to Dibrugarh In Assam  through Kolkata in west Bengal  and Dhaka in Bangladesh from  January next year. The total distance the cruise will cover will be about 4000 kilometres. It will cover 27 river systems and 50 tourist sites, including  a number of UNESCO World Heritage sites.
The  50 days river cruise is the first set of cruise liners that will run on a Public Private Partnership (PPP)  model  and already the MoU has been  signed between the Inland Waterways Authority of India (IWAI) and Antara Luxury River Cruises and JM Baxi River Cruises.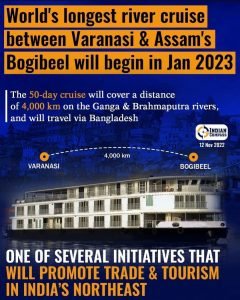 "Besides promoting passenger traffic on rivers, the development of inland waterway systems would also facilitate trade and cargo services in the country  and give a big  boost to tourism around the areas along its route," said Sarbananda Sonowal.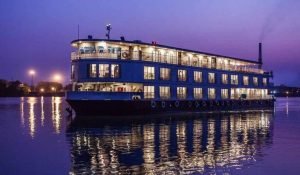 The cruise will pass through the parks and sanctuaries including the Kaziranga National park, which hosts the world's highest populations of single horned rhinoceros, Sundar bans delta, the world's largest mangrove forest and an abode of the Royal Bengal Tigers, Mayong, the cradle of black magic in India, also the  the famous Ganga Aarati in the Ganga River bank at Dashashwamedh Ghat in Varanasi.
The fares will be finalized in consultation with the central government very soon. From 10 January 2023 the river cruise will start from Varanasi. On 1 March it will reach Bogibeel in the Dibrugarh district of  Assam, a state situated in the eastern part of India.
On the eight day the river cruise will reach Patna in Bihar by passing through Buxar, Ramnagar, and Ghazipur.
The Indo-Bangladesh Protocol Route, facilitates trade and transit channels between the two countries and connects the Ganga and Brahmaputra rivers.
The Narendra Modi led union  government  is trying to promote inland navigation, river cruise tourism, and construct suitable terminals across the rivers under the Gati Shakti National Master Plan.
The entire North – Eastern part of India has become the new engine of growth in the country, said Sarbananda Sonowal.