BY TTT NEWS SERVICE
KOLKATA, 17 NOVEMBER
The union ministry of civil aviation has issued a notification on Wednesday that wearing face masks on board flights in both domestic and international sectors is not mandatory from now onwards.
Thus after a hiatus of over two and half years the central government has relaxed the norms for air travelling  by withdrawing the mandatory wearing of face masks inside the aircrafts.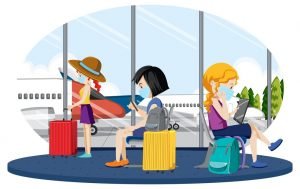 The decision has been taken after the covid -19 cases in India have been dipping almost everyday and most of the people have secured the double vaccine shots.
However, the in flight announcements can ask the passengers to wear masks for their safety reasons. But no fines or penalties can be imposed for not wearing any face masks.
The current active coronavirus cases in India are 0.02 percent and the rate of recovery is 98.79 percent.
After the outbreak of the covid -19 pandemic the Narendra Modi government had stopped regular international commercial flight operations for almost two years. Only those flights have been operated which were under the air bubble agreements which mostly comprised the cargo flights and bringing back stranded Indians from abroad  and sending back  stranded foreigners  from India.