BY TTT NEWS NETWORK
ASANSOL, 25 NOVEMBER 2022
India International School (IIS) , Andal celebrated its 1st Prize Distribution Ceremony  and  Annual Function, "UNITY IN DIVERSITY", on 24 November, 2022, in a frolicsome atmosphere with its vibrant hues which became a spectacular visual treat appreciated by one and all who witnessed the programme at the school premises.
The Chief Guest of the evening was Guruji, Yogiraj Amarjyoti, who came all the way from Himachal and  the guests of honour  were  Mr. Kailash Mandal, Airport Director, Bengal Aerotropolis Projects Limited (BAPL), Andal, Mr.  Raja Dasgupta, Vice – President, Projects  and Infrastructure, Bengal Aerotropolis Projects Limited , Mr. Atul Sharma, School Architect and Engineer, Director, Shri A.K.Sharma, (National Awardee Teacher), Vice-President, Smt. Radha Sharma, School Trust, Principal, Mrs. Sharmistha Chanda Paul and other esteemed guests.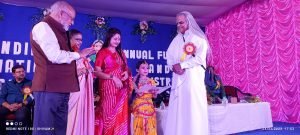 The Programme was ushered in by performing Hawan and  Tree Plantation.. Thereafter, all the dignitaries were felicitated followed by the welcome address by the Director, A.K.Sharma.
Mrs. Sharmistha Chanda Paul, the Principal briefed about various activities of the school tracing the progress and achievements of the past Academic years and said that during the first of existence, the school has taken long strides and has made commendable progress. Prizes for academic excellence and other proficiencies were awarded to the students.
After the auspicious lighting of the lamp followed by chanting of OM and  Gayatri Mantra, , the students showcased a mesmerizing performance representing 'Unity in Diversity' which was appreciated by one and all present there .Then the programme rose to the final crescendo with the National Anthem, along with a beautiful display of fireworks, which kept the audience enthralled till the end.