BY TTT NEWS NETWORK
ASANSOL, 28 NOVEMBER 2022
Every year the increase in students strength is proof that the school is improving day by day and India International School, Asansol set up in 2008 has already become a leading CBSE co education school in Burdwan West district, said law, judiciary and labour minister Moloy Ghatak.
"This year I came to know that the student strength is over 2600 , which is far more than last year and the excellent results are proof that the school is going towards the  right path," the minister added.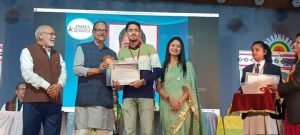 Moloy Ghatak further said that this year three students of India International School have cracked the prestigious Indian Institute of Technologies (IIT) entrance exams and two in medical entrance exams and has urged the school management that they should target to double the figure in the next year.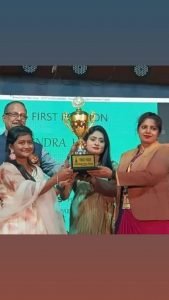 The chief guest was  law, judiciary and labour minister , Moloy Ghatak, who  inaugurated the 12 th  prize distribution ceremony and annual function,Indradhanush on 26 November  Of India International School, Asansol.
A.K. Sharma, Director of India International School, Asansol and national award winning teacher delivering his welcome address said that the school will be ready to introduce  the New Academic Policy (NEP) from the next academic session.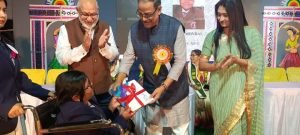 " I have attended a seminar on the introduction  of New Education Policy conducted by the CBSE at Vadodara very recently. The NEP is beneficial to the students and the future of education will be technology oriented.  Very soon the association of sarvodaya Schools will hold meetings and the teachers will be trained to handle the new education policy from next year. Without the help of  technology we could not have held classes through zoom and other apps during the dark period of the covid -19 pandemic outbreak. But many students are getting addicted to mobile phones and guardians will  have to play a major  role in solving this crisis  together  with the school," added Mr. A.K.Sharma.
Mrs. Sharmistha  Chanda Paul , the school principal presented the annual report where she briefed about various activities of the school tracing the progress and achievements of the past academic years and wished success to the students who could not make up for the prozes . prizes for academic excellence and other proficiencies were awarded to the students.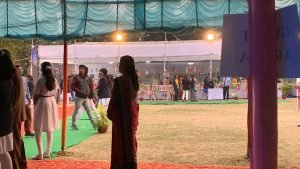 " After a hiatus of almost two years we are able to organise our annual event in such a big way,'she added.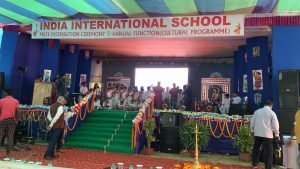 The annual function was woven around the theme Indradhanush, highlighting the spirit of solidarity mantra, the students showcased a scintillating performance which held the audience in awe  and left them enlightened as the show culminated with the proposal of vote of thanks. The programee came to a close with the national anthem  along with a beautiful display of fireworks.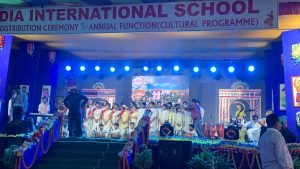 Vice President of School Trust, Smt. Radha Sharma,  Director and Principal of Burnpur Riverside School, Sushil Kumar Sinha, Vice President of National Rifle Association of India (NRAI), V.K.Dhall, Director and Founder Vaibhabi Kids and Tots Academy , Jagdish Bagri etc were also present.