BY DEBAJYOTI CHAKRABORTY
KOLKATA, 21 NOVEMBER 2022
The Two month  long water carnival,  Jal Mahotsav 2022-23  ( Breathe in happiness) at Hanumantiya Island  in Khandwa district, situated about 350  kilometres  by road from the capital city of Bhopal will be inaugurated on 28 November by  state chief minister Shivraj Singh Chouhan. Tourism and culture minister of Madhya Pradesh, Usha Thakur will also be present on the occasion.  The event is being organised by the Madhya Pradesh Tourism Board. Top of Form
Located on the banks of the Indira Sagar dam in Madhya Pradesh, Hanuwantiya is a glorious spectacle of nature.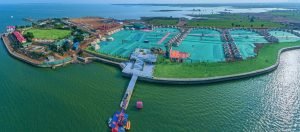 "Jal Mahotsav has established itself as an ideal destination for adventure lovers across the country. The Tourism Board constantly strives to enhance the enthusiasm and enjoyment of tourists through new innovations. In this series, a flying inflatable boat activity is being organized at Hanumantiya island located on the backwaters of Indira Sagar Dam. Tourists will enjoy such an activity for the first time in the country. Adventure activities such as scuba diving, night safari at Boriyamal Island, luxury Regal series boat, 40 feet-high rope swing, zip cycle, paramotoring, parasailing, speed boat, jet-ski, hot air ballooning, motor boat riding etc. will be the major attractions," said Sheo Sekhar Shukla, Principal Secretary of tourism and culture of MP and also MD of Madhya Pradesh Tourism Board.
Clear skies dotted with majestic white clouds, emerald green foliage, and, best of all, clean blue waters that remind one of the Mediterranean. A vast improvement, you would agree, on traffic snarls, pollution, and all the other accompanying annoyances of urban life.
A watercation to Jal Mahotsav has all the elements to reinvigorate the body, mind, and spirit.
HOW TO GET HERE
The nearest airport is Indore (150 kilometres) , just 3 hours away from the Madhya Dweep islands where Hanumantiya is located. If travelling by rail, the tourist  needs to get off at Khandwa, 50 km away. And if tourists  prefer the road, then Hanumantiya is well connected to Indore, Bhopal, and Khandwa.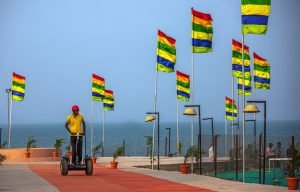 Jal Mahotsav is organized every year from November to January and the Tent City is operational with all the activities.
Jal Mahotsav will consist of a large Tent City with 104 Luxury Swiss Tents, AC conference Hall etc and  spread over an area of  10 acres. Each Tent is spaced 8 feet apart and is decorated with comfortable interiors for your stay. A dining hall offering delectable meals, sit out Gazebos, Indoor sports room Conference facilities, Kids Entertainment area, options of many Water Sports, Air Sports, Food Bazaar, Crafts Bazaar, Wellness center/Spa, and engrossing cultural entertainment each day. The  Madhya Pradesh Tourism Board, in association with Sunset Desert Camp, are  operating the Tent City on the backwaters of Indira Sagar Dam to promote it as an ideal tourist destination.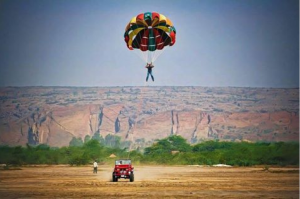 Hanumantiya island is surrounded by water from three sides and to reach other islands boats or ferries are the only mode of transportations.
ABOUT :
Hanuwantiya – The tent city , developed on the banks of the Indira Sagar dam in Madhya Pradesh, is blessed with a superb view of nature.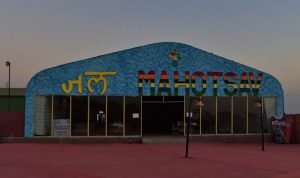 The majestic plethora of clear skies, dabbed with grand white clouds, the city surrounded by emerald green foliage, and above all, the distinct crystal clear water, which resembles the Mediterranean feel.
Witnessing the awe-inspiring accomplishments, you will agree that Hanumantiya is a major relief from city traffic snarls, breathing in pollution-free air, and eliminating the disruption of metropolitan life!
Dive into the fusion of beautiful nature, culture, and tradition, The heart of Incredible India Madhya Pradesh
The dedicated hard work and development activities under MP Tourism marked Hanuwantiya, Tent City Jal Mahotsav as the largest water carnival for adventure seekers and enthusiasts.
While charming islands are not typically associated with experience, Jal Mahotsav figures out how to break that generalization in the most ideal manner.
What's more than required is the experience to celebrate the offering, allowing individuals who favor less arduous action as well!

THINGS TO DO AT JAL MAHOTSAV, HANUWANTIYA :
Exploring this massive adventure island stays on top of this list. However, there are certain places that one can visit after that.
Visit MPT Hanumantiya Resort
Nestled near one of the largest man-made dams in India, this property is considered to be one of the finest MPT properties. Enjoy the mesmerizing sunsets, take a dip in the pool, and explore the vibrant rural lifestyle near it.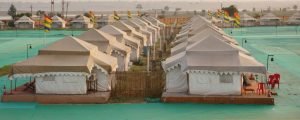 Visit the humongous Indira Sagar Dam
The serene views from the Indira Sagar dam, settle in your memories as you head back. Also, it is a fun activity to do with your family.
Blend in the spiritual vibes at Omkareshwar
One of the 12 Jyotirlingas, Omkareshwar, is located approximately 70 km from Hanuwantiya. If you are done with charging up your adrenaline and you need to head on a spiritual trail of Madhya Pradesh, the Omkar Jyotirlinga is a perfect destination.
POINTS OF INTEREST
Boriyamal Island
Conveniently located on the right bank of Narmada Sagar Dam, Boriyamal island is home to beautiful flora and fauna of miscellaneous forests.
Tent City
The tent city is a combination of spacious and luxurious tents that range from non-AC deluxe to royal suites. Book your stay in the tent city and wake up in the morning gazing at the beautiful sunrise.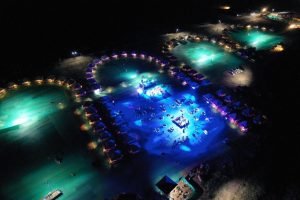 Boat Club
With a dedicated boat club, you can evade the hassle of overcrowding and reach your ferry conveniently.